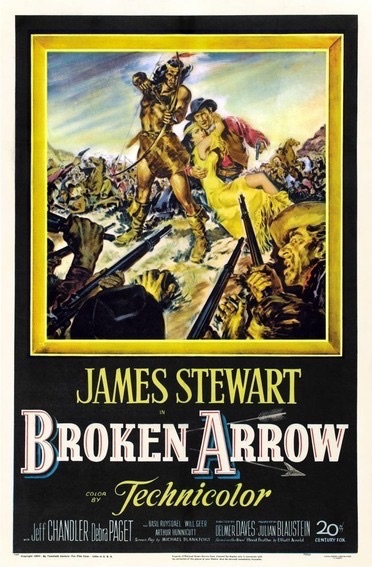 Broken Arrow
Of this motion picture the screen can be proud... Today... Tomorrow... A generation from now...










Stars: James Stewart, Jeff Chandler, Debra Paget, Will Geer, Jay Silverheels
Director: Delmer Daves
Writer: Michael Blankfort (Novela: Elliott Arnold)
Language: Spanish
Studio: 20th Century Fox.
Duration: 93
Rated: See all certifications
DVD Release: April 2005
Transcurre el año 1870, el territorio de Arizona es escenario de cruentas luchas entre blancos e indios apaches, capitaneados por Cochise, que defienden palmo a palmo su territorio. A la vista de esta situación, un joven llamado Tom Jeffords decide entrevistarse con Cochise para proponerle un tratado de paz. El jefe indio se siente impresionado por la iniciativa del joven, por lo que decide recibirle en su campamento. Fruto de esta entrevista es la autorización, por parte de Cochise, de que el correo pueda pasar por sus territorios. Pero Tom, al irse del campamento, quedó prendado de una joven india llamada Somseeahray...
---
| | |
| --- | --- |
| James Stewart | Tom Jeffords |
| Jeff Chandler | Cochise |
| Debra Paget | Sonseeahray |
| Will Geer | Ben Slade |
| Basil Ruysdael | |
| Jay Silverheels | |
| Will Geer. Joyce Mackenzie | |
| Arthur Hunnicutt | Milt Duffield |
| Joyce Mackenzie | Terry (as Joyce MacKenzie) |
| Chris Willow Bird | |
| Argentina Brunetti | |
Genre: Western
Media: DVD
Sound: Dolby Digital 2.0