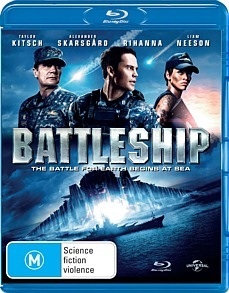 The battle for Earth begins at sea.










Stars: Rihanna, Liam Neeson, Taylor Kitsch, Alexander Skarsgard, Brooklyn Decker
Director: Peter Berg
Writer: Jon Hoeber, Erich Hoeber
Language: English
Studio: Universal Pictures
Duration: 131
Rated: PG-13
DVD Release: September 2012
Peter Berg (Hancock) produces and directs Battleship, an epic-scaled action-adventure that unfolds across the seas, in the skies and over land as our planet fights for survival against a superior force. Inspired by Hasbro's classic naval combat game, Battleship stars Taylor Kitsch as Lt. Alex Hopper, a Naval officer assigned to the USS John Paul Jones; Brooklyn Decker as Sam Shane, a physical therapist and Hopper's fianc e; Alexander Skarsg rd as Hopper's older brother, Stone, Commanding Officer of the USS Sampson; Rihanna as Petty Officer Raikes, Hopper's crewmate and a weapons specialist on the USS John Paul Jones; and international superstar Liam Neeson as Hopper and Stone's superior (and Sam's father), Admiral Shane.
---
| | |
| --- | --- |
| Jesse Plemons | Boatswain Mate Seaman Jimmy 'Ordy' Ord |
| Jerry Ferrara | Sampson JOOD Strodell |
| Hamish Linklater | Cal Zapata |
| Tadanobu Asano | Captain Yugi Nagata |
| Peter MacNicol | Secretary of Defense |
| Adam Godley | Dr. Nogrady |
| Joji Yoshida | Chief Engineer Hiroki |
| John Tui | Chief Petty Officer Walter 'The Beast' Lynch |
| Gregory D. Gadson | Lieutenant Colonel Mick Canales |
| Rico McClinton | Captain Browley |
| Rihanna | Petty Officer Cora 'Weps' Raikes |
| Liam Neeson | Admiral Shane |
| Taylor Kitsch | Lieutenant Alex Hopper |
| Alexander Skarsgård | Stone Hopper |
| Alexander Skarsgård | Commander Stone Hopper |
| Brooklyn Decker | Sam |
| Josh Pence | Chief Moore |
| Gary Grubbs | Air Force Chief of Staff |
| Stephen Bishop | OOD Taylor |
| Leni Ito | Japanese News Anchor |
| David Jensen | NASA Director |
| Peter Berg | JPJ 2nd Gunner |
| Louis Lombardi | Bartender |
| Steve Jablonsky | Original Music Composer |
| Austin Naulty | JPJ Fireman |
| Tobias A. Schliessler | Director of Photography |
| Sebastian James | JPJ Scat |
| Colby Parker Jr. | Editor |
| Billy Rich | Editor |
| Carson Aune | CIC Gunner |
| Paul Rubell | Editor |
| Doug Penty | CIC Watch Supervisor |
| Larry Dias | Set Decoration |
| Louise Mingenbach | Costume Design |
| Kimberly A. Tillman | Costume Design |
| Lloyd Pitts | JPJ Port Gunner |
| Drew Rausch | Sampson XO |
| Christopher Darling | Samson OS DA |
| Bill Stinchcomb | Marine Commandant |
| Billy Slaughter | BIP Technician |
| Rami Malek | Watch Officer |
Genre: Action
Media: Blu-ray
Sound: Dolby