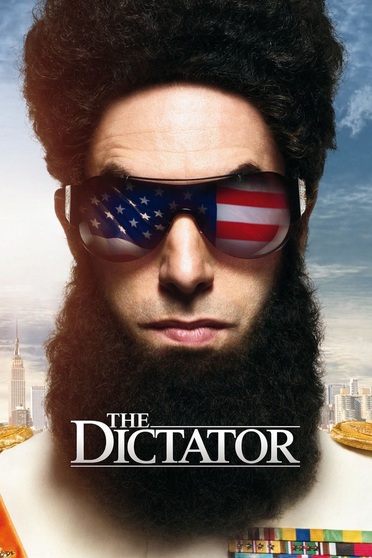 The heroic story of a dictator who risks his life to ensure that democracy would never come to the country he so lovingly oppressed.










Stars: Sacha Baron Cohen, Sayed Badreya, Michele Berg, Rocky Citron, Liam Campora
Director: Larry Charles
Writer: Sacha Baron Cohen, Alec Berg
Language: English
Studio: Four by Two Films
Duration: 83
Rated: R
DVD Release: August 2012
Haffaz Alladeen is the bizarre dictator of the oil-rich African nation of Wadiya. Alladeen is as egotistical and ruthless as dictators come, executing anyone who disagrees with him by using his signature "head chop" signal. Alladeen is summoned by the UN to address their concerns about his nuclear program.
---
| | |
| --- | --- |
| Sacha Baron Cohen | Aladeen |
| Sayed Badreya | Omar |
| Michele Berg | Aladeen's Mother |
| Rocky Citron | Baby Aladeen |
| Liam Campora | Aladeen Age 6 |
| Aasif Mandvi | Doctor |
| John C. Reilly | Clayton |
| Michelle Bergh | Aladeen's Mother |
| Rizwan Manji | Patient |
| Rick Chambers | Newscaster Voiceover |
| Elsayed Mohamed | Wadiyan Olympic Official |
| Olivia Taylor Dudley | Nurse Svetlana |
| Adeel Akhtar | Maroush |
| Edward Norton | Edward Norton |
| Horatio Sanz | Aide on Balcony |
| Ben Kingsley | Tamir |
| Elena Goode | Virgin Guard |
| Alex Kruz | Japanese Olympic Runner |
| Nazanin Homa | Virgin Guard |
| Dawn Jackson | Virgin Guard |
| Victoria Beltran | Virgin Guard |
| Danielle Burgio | Virgin Guard |
| Dominique DiCaprio | Virgin Guard |
| Susan Sykes | |
| Aja Frary | Virgin Guard |
| Fred Melamed | Head Nuclear Scientist |
| Garry Shandling | Inspector |
| Jason Mantzoukas | Nadal |
| Cuco Usín | Assassin |
| Megan Fox | Herself |
| Joey Slotnick | Homeless Man |
| Ian Roberts | NYC Cop |
| Anna Faris | Zoey |
| Chris Parnell | News Anchor |
| Jessica St. Clair | Denise |
| David Fonteno | Secretary General |
| Mitchell Greene | |
| Anna Katarina | Angela Merkel |
| Michael Delaney | Delegate |
| William Fowle | Delegate |
| Bobby Lee | Mr. Lao |
| Olek Krupa | Gazprom Executive |
| Alan Cox | BP Executive |
| Kevin Corrigan | Slade |
| Mitchell Green | Joteph |
| Jenny L. Saldaña | Hannah |
| George Bartenieff | Romanian Accountant |
| Chris Gethard | Clark |
| Fred Armisen | Waiter / Minister |
| Sean T. Krishnan | Waiter / Cereal-Loving Soldier |
| Eliyas Qureshi | Angry Wadiyan Diner |
| Chris Elliott | Mr. Ogden |
| Jon Glaser | Obnoxious Customer |
| Daniel Burress | Customer in Bathroom |
| Pete Wiggins | Bratty Kid Customer |
| Adam LeFevre | Man in Helicopter |
| Marceline Hugot | Woman in Helicopter |
| Anthony Mangano | Arresting Officer |
| Melissa Francis | Local News Reporter |
| Tim J. Ellis | Offended Customer |
| Michael Hardart | Store Customer |
| Miriam Tolan | Health Inspector's Wife |
| Zachary Mackiewicz | Health Inspector's Son |
| J.B. Smoove | Funeral Usher |
| Hollis Granville | Eldridge Douglas |
| Ann Dev'Unay | Mourner |
| Sondra James | Friendly Customer |
| Tara Copeland | Mom Shopping with Toddler |
| Sydney Berry | Toddler |
| Kathryn Hahn | Pregnant Woman |
| Seth Morris | Pregnant Woman's Husband |
| Kate Pak | Mrs. Lao (as Katie Pak) |
| Regina Anne Rizzo | puppeteer |
| Tracey Ruggiero | Mugging Victim |
| Karl Jacob | Aladeen Double |
| Marcia DeBonis | Woman in Hotel Window |
| Nasim Pedrad | Female GMW Host |
| Mousa Kraish | Wadiyan Soldier |
| Mousa Hussein Kraish | Wadiyan Soldier |
| Neimah Djourabchi | Wadiyan Soldier |
| Sevan Greene | Wadiyan Soldier |
| Nadav Malamud | Wadiyan Soldier |
| Frédéric North | Helicopter Pilot (NYC) (as Fred North) |
| Fred Hanna | Helicopter Pilot (NYC) |
| Ruben Roberto Gomez | Venezuelan Ambassador |
| Bill Richards | Helicopter Pilot (as William Richards) |
| Hanna Halldorsdottir | Customer |
| Marc Wolff | Helicopter Pilot (Spain) |
| Rosy Ramchandani | Virgin Guard |
| Cordell King | Helicopter Ground Crew |
| Jared Acosta | Palace Guard |
| Erran Baron Cohen | Composer |
| Sevan | Wadiyan Soldier |
| Lawrence Sher | Cinematographer |
| Greg Hayden | Editor |
| Eric Kissack | Editor |
| Victor Kempster | Production Designer |
| Greg Berry | Art Director |
| Carlos Bodelón | Art Director |
| Julian Laverdiere | Art Director |
Genre: Comedy
Media: DVD
Sound: Dolby Digital