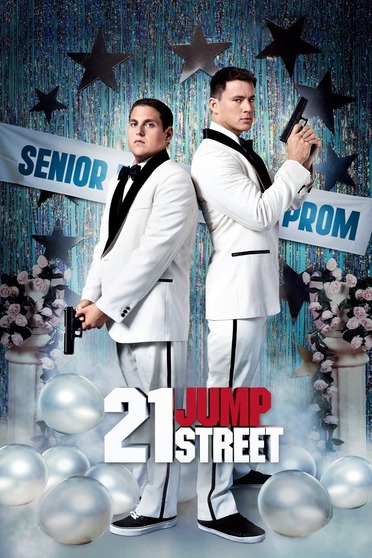 They thought the streets were mean. Then they went back to high school.










Stars: Jonah Hill, Channing Tatum, Brie Larson, Dave Franco, Rob Riggle
Director: Chris Miller, Phil Lord
Writer: Stephen J. Cannell, Michael Bacall, Patrick Hasburgh, Jonah Hill
Language: English
Studio: Columbia Pictures
Duration: 109
Rated: R
DVD Release: June 2012
In high school, Schmidt (Jonah Hill) was a dork and Jenko (Channing Tatum) was the popular jock. After graduation, both of them joined the police force and ended up as partners riding bicycles in the city park. Since they are young and look like high school students, they are assigned to an undercover unit to infiltrate a drug ring that is supplying high school students synthetic drugs.
---
| | |
| --- | --- |
| Jonah Hill | Schmidt |
| Channing Tatum | Jenko |
| Brie Larson | Molly Tracey |
| Dave Franco | Eric Molson |
| Rob Riggle | Mr. Walters |
| DeRay Davis | Domingo |
| Ice Cube | Captain Dickson |
| Dax Flame | Zack |
| Chris Parnell | Mr. Gordon |
| Ellie Kemper | Ms. Griggs |
| Jake Johnson | Principal Dadier |
| Jake M. Johnson | Principal Dadier |
| Nick Offerman | Deputy Chief Hardy |
| Holly Robinson Peete | Officer Judy Hoffs |
| Johnny Pemberton | Delroy |
| Stanley Wong | Roman |
| Justin Hires | Juario |
| Brett Lapeyrouse | Amir |
| Lindsey Broad | Lisa |
| Caroline Aaron | Annie Schmidt |
| Joe Chrest | David Schmidt |
| Geraldine Singer | Phyllis |
| Dakota Johnson | Fugazy |
| Rye Rye | Jr. Jr. |
| Valerie Tian | Burns |
| Jaren Mitchell | Sanders |
| Johnny Simmons | Billiam Willingham |
| Keith Kurtz | DJ Ay Papi |
| Randal Reeder | Karl |
| Peter Epstein | One-Percenter #1 |
| Anthony Molinari | One-Percenter #2 |
| Luis Da Silva Jr. | One-Percenter #3 - Luis |
| Dominic 'Taz' Alexander | One-Percenter #4 - Lukas |
| Mike Seal | One-Percenter #5 |
| Spencer Boldman | French Samuels |
| Joe Williams | Scott (as Joe Nin Williams) |
| Chad Hessler | Crazy |
| Kevin Michael Murphy | Crazy (as Kevin Murphy) |
| Victor Paguia | Crazy |
| Chanel Celaya | Mélodie |
| Carol Sutton | Hamilton Principal |
| Andrea Frankle | Cinnamon |
| Tiffney Wagner | Prostitute |
| Andrea Madison | Prostitute |
| Hristo Birbochukov | Accompanist |
| Candi Brooks | VW Bug Driver |
| Turner Crumbley | EMT |
| Haley Farris | Eric's Friend (as Haley Elizabeth Farris) |
| Brittney Alger | Eric's Friend |
| Joshua Nelms | Naked Drama Threesome |
| Courtney Jarrell | Naked Drama Threesome |
| Melissa Cordero | Naked Drama Threesome |
| Beau Delatte | Adorable Boy |
| Charles Ferrara | Janitor |
| Mark Adams | Police Chief |
| Brian Heath Rossitto | Instructor |
| John L. Armijo | Plainclothes Detective (uncredited) |
| Beau Brasseaux | Police Cadet |
| Cameron M. Brown | Boy in Park |
| Rene Fabre | Theater Parent |
| Sara Kenley | Flashback High School Girl |
| Stephen Livaudais | Policeman |
| Moses Munoz | Police Academy Cadet |
| Cy Fahrenholtz | Graduation Attendee (uncredited) |
| Darren Sumner | Officer Miller |
| Dakota Hill | Student (uncredited) |
| Stephen Warren | High School Student |
| Peter DeLuise | Officer Doug Penhall |
| Johnny Depp | Tom Hanson |
| Richard Grieco | Officer Dennis Booker |
Genre: Action, Comedy, Crime
Media: Blu-ray
Sound: Dolby Digital