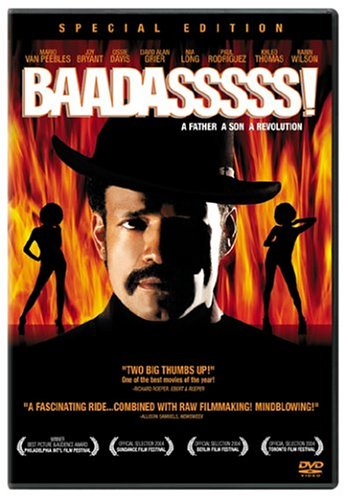 Baadasssss! (How to Get the Man's Foot Outta Your Ass)
(2003)










Stars: Mario Van Peebles, Joy Bryant, T.K. Carter, Terry Crews, Ossie Davis, David Alan Grier, Nia Long, Paul Rodriguez, Saul Rubinek, Vincent Schiavelli
Director: Mario Van Peebles
Writer: Melvin Van Peebles, Mario Van Peebles, Dennis Haggerty
Language: English
Studio: Sony Pictures
Duration: 108
Rated: R
DVD Release: September 2004
Critics and audiences alike have gotten behind Mario Van Peebles' candid portrait of his father Melvin's struggle as a young, black director during the socially-shifting early '70s.
Determined to make a film that matters, Melvin (played by son Mario) deals with two-faced backers, a rag tag crew, threatening creditors and various shades of Hollywood hypocrisy. Obsessed with and everything on the line, including his failing eyesight and family, his only choice is to stick to his guns and do whatever it takes to get his neo-blaxploitation epic Sweet Sweetback's Baadassss Song to the audience for which it was envisioned
The real-life father and son dynamic brings an intimacy to this inspiring and often hilarious tribute to the father of black cinema. the result is a seamless layering of entertaining drama and poignant documentary that mirrors itself from every angle and never loses its edge.
---
| | |
| --- | --- |
| Mario Van Peebles | Melvin Van Peebles |
| Joy Bryant | Priscilla |
| T.K. Carter | Bill Cosby |
| Terry Crews | Big T |
| Ossie Davis | Granddad |
| David Alan Grier | Clyde Houston |
| Nia Long | Sandra |
| Paul Rodriguez | Jose Garcia |
| Saul Rubinek | Howard 'Howie' Kaufman |
| Vincent Schiavelli | Jerry |
| Khleo Thomas | Mario |
| Rainn Wilson | Bill Harris |
| Karimah Westbrook | Ginnie |
| Len Lesser | Manny & Mort Goldberg |
| Sally Struthers | Roz |
| Jazsmin Lewis | Working Girl |
| Adam West | Bert |
| Ralph Martin | Tommy David |
| Robert Peters | Bob Maxwell |
| Glenn Plummer | Angry Brother |
| Khalil Kain | Maurice |
| Pamela Gordon | Ethel |
| Wesley Jonathan | Panther |
| Joseph Culp | Attorney |
| John Singleton | Detroit J |
| Joan M. Blair | Brenda (as Joan Blair) |
| Penny Bae Bridges | Megan |
| Mandela Van Peebles | Angel Muse |
| E.J. Callahan | Bartender |
| Keith Diamond | Large Brother |
| Don Dowe | Officer |
| Brian 'Skinny B.' Lewis | Panther |
| Mickey Mello | David |
| Christopher Michael | Black Journalist |
| Tyrone M. Mitchell | Man |
| Alan James Morgan | Josh |
| David Alan Smith | Brewster |
| Nathan Wetherington | Jimmy |
| Robin Wilson | Excited Lady |
| Paul Roach | Pimpy Paul |
| Marley Van Peebles | Trick or Treater |
| Maya Van Peebles | Trick or Treater |
| Bridget Avildsen | Trick or Treater |
| Craig Jones | Trick or Treater |
| Kate Krystowiak | Moonbeam |
| Anthony Rodriguez | Fernando |
| Thomas Longo | camera assistant |
| Robert Yosses | Script Supervisor |
| Danny Hebert | Crew Member |
| Michele Hill | Biker Girl |
| Les Miller | Nora |
| Bob Primes | Union Thug |
| Buzzxsassy | Union Thug |
| Rey Riogo | Union Thug |
| Megan Van Peebles | Herself (also archive footage) |
| Tyler Bates | Composer |
| Robert Primes | Cinematographer |
| Nneka Goforth | Editor |
| Anthony Miller | Editor |
| Ralph P. Martin | Tommy David (as Ralph Martin) |
| Joan Blair | Brenda |
| Brent Schaeffer | Panther |
Genre: Biography
Media: DVD
Sound: Dolby Digital 5.1