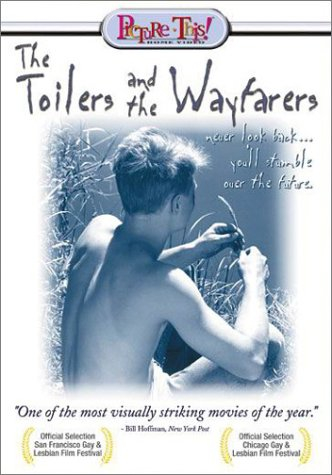 The Toilers and the Wayfarers
(1996)
never look back ... you'll stumble over the future.










Stars: Matt Klemp, Ralf Schirg, Andrew Woodhouse, Jerome Samuels, Joan Wheeler
Director: Keith Froelich
Writer: Keith Froelich
Language: English
Studio: KJF Productions
Duration: 75
DVD Release: March 1997
Phillip and Dieter nearly suffocate hiding their sexual identity in the face of puritanical small town values. Joined by a mysterious German relative, the three misfits escape to the big city searching for a place to belong.
---
| | |
| --- | --- |
| Matt Klemp | Dieter |
| Ralf Schirg | Udo |
| Andrew Woodhouse | Phillip |
| Jerome Samuels | Helmut |
| Joan Wheeler | Anna |
| Michael Glen | Lt. Scallion |
| Ralph Jacobus | Carl |
| Douglas Blacks | Gym Coach / Man at Bus Depot |
| Anthony C. Paul | Paul |
| Johanna Stucki | Renate |
| Alex Cole | Car Dealer |
| Michael A. Sward | Gay Hustler |
| Kevin Burns | Assistant Detective 1 |
| Scott Bukowski | Assistant Detective 2 |
| James Hulbert | Pastor |
| Daniel Ayers | Heinrich |
| Mischy Ayers | Dieter's Sister 1 |
| Christine Ayers | Dieter's Sister 2 |
| Louis Stadick | German Bar Patron 1 |
| Harlan Schulz | German Bar Patron 2 |
| Stan Windhorn | German Bar Patron 3 |
| Elmer Scheid | German Bar Patron 4 |
| Heinz Schwerman | German Bartender |
| Karen Manion | Udo's Boss |
| Michael Tabor | American Bartender |
| Janice Hout | Woman in Bar |
| Elizabeth Ayers | Gossiping Old Lady 1 |
| Tom Kreager | Fat Cop |
| Kevin White | Cop 1 |
| Ben Bowman | Cop 2 |
| Richard Runck | Drunk Man In New Ulm |
| James Newman | John 2 |
| John Meadley | John 3 |
| Keith Froelich | Brewmeister |
| Cletus G. Goblirsch | Polka Band Leader |
| Chan Poling | Composer |
| James Frank Tittle | Cinematographer |
| Robb Harriss | Editor |
| Bjorn Kindem | Editor |
Genre: Drama, Lgbt+, Romance
Media: DVD