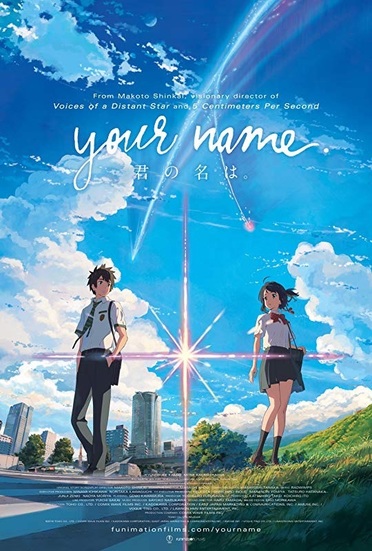 Your Name: Gestern, heute und für immer
(2016)
Kimi no na wa.
Experience Japan's #1 film of 2016, from visionary director Makoto Shinkai










Stars: Ryûnosuke Kamiki, Mone Kamishiraishi, Ryô Narita, Aoi Yûki, Nobunaga Shimazaki
Director: Makoto Shinkai
Writer: Makoto Shinkai
Language: English
Studio: Amuse
Duration: 106
Rated: PG
Mitsuha is the daughter of the mayor of a small mountain town. She's a straightforward high school girl who lives with her sister and her grandmother and has no qualms about letting it be known that she's uninterested in Shinto rituals or helping her father's electoral campaign. Instead she dreams of leaving the boring town and trying her luck in Tokyo. Taki is a high school boy in Tokyo who works part-time in an Italian restaurant and aspires to become an architect or an artist. Every night he has a strange dream where he becomes...a high school girl in a small mountain town.
---
| | |
| --- | --- |
| Ryûnosuke Kamiki | Taki Tachibana |
| Mone Kamishiraishi | Mitsuha Miyamizu |
| Ryô Narita | Katsuhiko Teshigawara |
| Aoi Yuki | Sayaka Natori |
| Nobunaga Shimazaki | Tsukasa Fujii |
| Kaito Ishikawa | Shinta Takagi |
| Kanon Tani | Yotsuha Miyamizu |
| Masaki Terasoma | Toshiki Miyamizu (voice) |
| Sayaka Ohara | Futaha Miyamizu |
| Kazuhiko Inoue | Taki's Father (voice) |
| Chafurin | Teshigawara's Father (voice) |
| Kana Hanazawa | Teacher |
| Yuka Terasaki | (voice) |
| Takashi Onozuka | (voice) |
| Yôhei Namekawa | (voice) |
Genre: Animation
Media: DVD
Sound: Dolby Digital