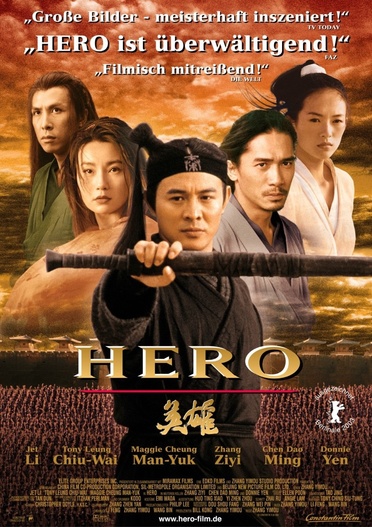 Ying xiong
How far would you go to become a hero?










Stars: Jet Li, Tony Leung Chiu-Wai, Maggie Cheung, Chen Daoming, Zhang Ziyi, Donnie Yen.
Director: Yimou Zhang
Writer: Paul Whittington
Language: English
Studio: Buena Vista
Duration: 95
Rated: M15+
Starring Jet Li (Cradle 2 The Grave, Romeo Must Die) in a visually stunning martial arts epic where a fearless warrior rises up to defy an empire and unite a nation! With supernatural skill and no fear, a nameless soldier (Jet Li) embarks on a mission of revenge against the fearsome army that massacred his people. Now, to achieve the justice he seeks, he must take on the empire's most ruthless assassins and reach the enemy he has sworn to defeat! Acclaimed by critics and honored with numerous international film awards, this motion picture was nominated for both an Oscar ® and Golden Globe as Best Foreign Language Film (2002)!
---
| | |
| --- | --- |
| Jet Li | Nameless |
| Jet Li Lian-Jie | |
| Maggie Cheung Man-Yuk | |
| Tony Chiu Wai Leung | Broken Sword (as Tony Leung Chiu-Wai) |
| Tony Leung Chiu-Wai | |
| Maggie Cheung | Flying Snow (as Maggie Cheung Man-Yuk) |
| Chan Diy Ming | |
| Chen Daoming | |
| Ziyi Zhang | Moon (as Zhang Ziyi) |
| Daoming Chen | Qin Emperor |
| Zhang Ziyi | |
| Donnie Yen | Sky |
| Christopher Purdy | Matty |
| Paul Fox | Mark |
| Zhongyuan Liu | Old scholar |
| Tianyong Zheng | Old Servant |
| Crissy Rock | Mum |
| Margaret Spiteri | Mrs. Prescott |
| Yan Qin | Prime Minister |
| Xia Bin | Qin Guard #4 |
| Anne Boylan | Grandma |
| Phill Zackarias | Composer |
| Hua Cao | Qin Guard #2 |
| Aaron Norvell | Iraqi Soldier |
| Heizi | Qin Guard #1 |
| James Hong | Qin Emperor (voice) |
| Ma Wen Hua | Head Eunuch |
| Xu Kuang Hua | Pianist |
Genre: Action & Thriller
Media: DVD
Sound: Dolby Digital 5.1