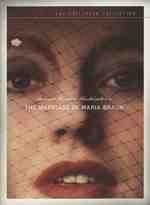 Marriage of Maria Braun (Ehe der Maria Braun, Die)
(1979)
Die Ehe der Maria Braun
The Marriage Of Maria Braun. . . the marriage lasted no longer than half a day and a full night.










Stars: Hanna Schygulla, Klaus Löwitsch, Ivan Desny, Gisela Uhlen, Elisabeth Trissenaar
Director: Rainer Werner Fassbinder
Writer: Rainer Werner Fassbinder
Language: English
Studio: Criterion
Duration: 120
DVD Release: September 2003
This movie follows the life of a young German woman, married to a soldier in the waning days of WWII. Fassbinder has tried to show the gritty life after the end of WWII and the turmoil of the people trapped in its wake.
---
| | |
| --- | --- |
| Hanna Schygulla | Maria Braun |
| Klaus Löwitsch | Hermann Braun |
| Ivan Desny | Karl Oswald |
| Gisela Uhlen | Mother |
| Elisabeth Trissenaar | Betti Klenze |
| Gottfried John | Willi Klenze |
| Hark Bohm | Senkenberg |
| Greg Eagles | Bill (as George Byrd) |
| Claus Holm | Doctor |
| Günter Lamprecht | Hans Wetzel |
| Anton Schiersner | Grandpa Berger |
| Lilo Pempeit | Frau Ehmke |
| Sonja Neudorfer | Red Cross nurse |
| Volker Spengler | Train Conductor |
| Isolde Barth | Vevi |
| George Eagles | Bill |
Genre: Drama
Media: DVD
Sound: Dolby Digital 2.0 Stereo