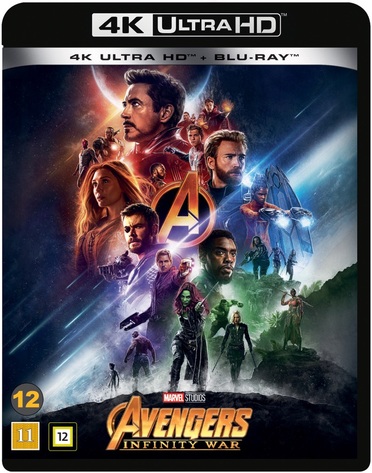 Avengers: Infinity War
(2018)
An entire universe. Once and for all.










Stars: Robert Downey Jr., Chris Evans, Chris Hemsworth, Chris Pratt, Mark Ruffalo
Director: Anthony Russo, Joe Russo
Writer: Christopher Markus, Stephen McFeely, Stan Lee, Jack Kirby
Language: English
Studio: Marvel Studios
Duration: 150
Rated: PG-13
The Avengers og deres allierte superhelter risikerer alt i et forsøk på å beseire den mektige Thanos før hans ødeleggende angrep har ødelagt hele universet. Den største konfrontasjonen gjennom tidene venter.
---
| | |
| --- | --- |
| Robert Downey Jr. | Tony Stark / Iron Man |
| Chris Evans | Steve Rogers / Nomad |
| Chris Hemsworth | Thor Odinson |
| Chris Pratt | Peter Quill / Star-Lord |
| Mark Ruffalo | Bruce Banner / The Hulk |
| Scarlett Johansson | Natasha Romanoff / Black Widow |
| Elizabeth Olsen | Wanda Maximoff / Scarlet Witch |
| Zoe Saldana | Gamora |
| Sebastian Stan | James "Bucky" Barnes / Winter Soldier |
| Bradley Cooper | Rocket Raccoon (voice) |
| Paul Rudd | Scott Lang / Ant-Man |
| Jeremy Renner | Clint Barton / Hawkeye |
| Vin Diesel | Groot (voice) |
| Dave Bautista | Drax the Destroyer |
| Josh Brolin | Thanos |
| Peter Dinklage | M.O.D.O.K. |
| Paul Bettany | Vision |
| Benedict Cumberbatch | Stephen Strange / Doctor Strange |
| Tom Holland | Peter Parker / Spider-Man |
| Chadwick Boseman | T'Challa / Black Panther |
| Karen Gillan | Nebula |
| Tom Hiddleston | Loki |
| Benedict Wong | Wong |
| Cobie Smulders | Maria Hill |
| Pom Klementieff | Mantis |
| Sean Gunn | Kraglin / On Set Rocket / On Set Groot |
| Benicio Del Toro | Taneleer Tivan / The Collector |
| Terry Notary | Cul Obsidian |
| Anthony Mackie | Sam Wilson / Falcon |
| Danai Gurira | Okoye |
| Letitia Wright | Shuri |
| Isabella Amara | Sally Avril |
| Tessa Thompson | Brunnhilde / Valkyrie |
| Tom Vaughan-Lawlor | Ebony Maw |
| Don Cheadle | James Rhodes / War Machine |
| Hiroyuki Sanada | |
| Jacob Batalon | Ned |
| Curt Clendenin | Silver Surfer |
| Linda Cardellini | Laura Barton |
| Winston Duke | M'Baku |
| Alan Silvestri | Original Music Composer |
| Trent Opaloch | Director of Photography |
| Jeffrey Ford | Editor |
| Matthew Schmidt | Editor |
| Thomas Brown | Art Direction |
Genre: Action, Adventure, Fantasy, Sci Fi
Media: DVD
Sound: IMAX 6-Track