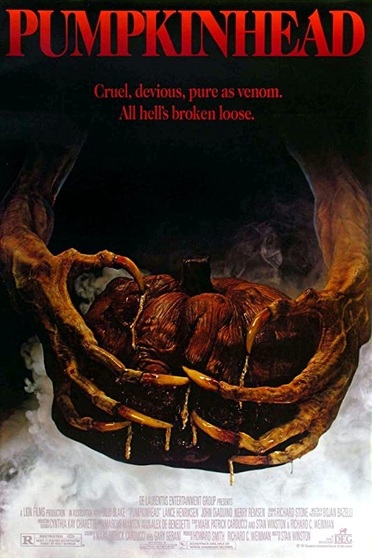 The Demon of Revenge.










Stars: Lance Henriksen
Director: Stan Winston
Writer: Ed Justin, Mark Patrick Carducci, Stan Winston, Richard Weinman, Gary Gerani
Language: English
Studio: MGM (Video & DVD)
Duration: 86
Rated: R
DVD Release: September 2008
A group of city kids go into the country to relax. While there, one of them is involved in a biking accident that takes the life of the son of the local storekeeper (Lance Henrikson). In a fit of rage, the storekeeper has a witch unleash an unstoppable demon called "Pumpkinhead" to kill the group. When he realizes he's gone too far, the storekeeper attempts to save the kids, but is continually afflicted by visions of peoples' deaths through the eyes of the monster.
---
| | |
| --- | --- |
| Lance Henriksen | Ed Harley |
| Jeff East | Chris |
| John D'Aquino | Joel |
| Kimberly Ross | Kim |
| Joel Hoffman | Steve |
| Cynthia Bain | Tracy |
| Kerry Remsen | Maggie |
| Florence Schauffler | Haggis |
| Brian Bremer | Bunt |
| George Flower | Mr. Wallace |
| George 'Buck' Flower | Mr. Wallace (as Buck Flower) |
| Matthew Hurley | Billy Harley |
| Lee de Broux | Tom Harley (as Lee DeBroux) |
| Peggy Walton-Walker | Ellie Harley (as Peggy Walton Walker) |
| Chance Corbitt Jr. | Eddie Harley |
| Chance Michael Corbitt | Eddie Harley |
| Dick Warlock | Clayton Heller (as Richard Warlock) |
| Devon Odessa | Hessie |
| Joseph Piro | Jimmy Joe |
| Mayim Bialik | Wallace kid |
| Jandi Swanson | Wallace kid |
| Bob Fredrickson | Ethan (as Robert Fredrickson) |
| Greg Michaels | Hill man |
| Madeleine Taylor Holmes | Old hill woman |
| Mary Boessow | Mountain Girl |
| Tom Woodruff Jr. | Pumpkinhead |
| Mushroom | Gypsy |
Genre: Horror
Media: DVD
Sound: Ultra Stereo