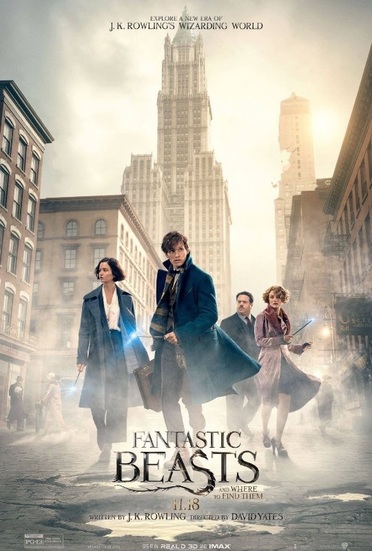 Phantastische Tierwesen und wo sie zu finden sind
(2016)
Fantastic Beasts and Where to Find Them
J.K. Rowling invites you to a new era of the wizarding world.










Stars: Eddie Redmayne, Sam Redford, Scott Goldman, Tim Bentinck, Tristan Tait
Director: David Yates
Writer: J.K. Rowling
Language: English
Studio: Heyday Films
Duration: 133
Rated: 6
Holding a mysterious leather suitcase in his hand, Newt Scamander, a young activist wizard from England, visits New York while he is on his way to Arizona. Inside his expanding suitcase hides a wide array of diverse, magical creatures that exist among us, ranging from tiny, twig-like ones, to majestic and humongous ones. It is the middle of the 20s and times are troubled since the already fragile equilibrium of secrecy between the unseen world of wizards and the ordinary or "No-Maj" people that the MACUSA Congress struggles to maintain, is at risk of being unsettled. In the meantime, the voices against wizardry keep growing with daily protests led by Mary Lou Barebone and fuelled by the increasing disasters ascribed to a dark wizard, Gellert Grindelwald. At the same time, by a twist of fate, Newt's precious suitcase will be switched with the identical one of an aspiring No-Maj baker, Jacob Kowalski, while demoted Auror, Tina Goldstein, arrests Newt for being an unregistered wizard. To...
---
| | |
| --- | --- |
| Eddie Redmayne | Newt |
| Sam Redford | Customs Official |
| Scott Goldman | Customs Official (voice) |
| Tim Bentinck | Witness |
| Tristan Tait | Reporter |
| Colin Farrell | Graves |
| Tom Clarke Hill | Photographer 2 (as Tom Clarke-Hill) |
| Matthew Sim | Photographer 1 |
| Katherine Waterston | Tina |
| Samantha Morton | Mary Lou |
| Dan Fogler | Kowalski |
| Ezra Miller | Credence Barebone |
| Faith Wood-Blagrove | Modesty Barebone |
| Jenn Murray | Chastity Barebone |
| Cory Peterson | Bank Employee |
Genre: Adventure, Family, Fantasy
Media: DVD
Sound: Datasat