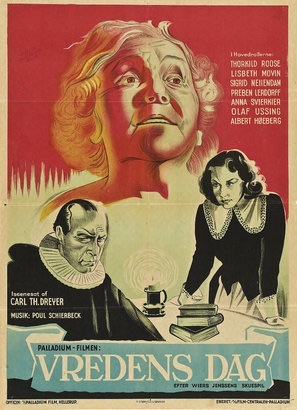 Vredens Dag
A Strange Love Story - Told With Startling Frankness by Carl Dreyer, world-famous director.










Stars: Lisbeth Movin, Anna Svierkier, Harald Holst, Preben Lerdorff Rye, Emanuel Jørgensen
Director: Carl Theodor Dreyer
Writer: Carl Theodor Dreyer, Poul Knudsen, Paul La Cour, Mogens Skot-Hansen, Hans Wiers-Jenssen
Language: English
Studio: BFI Video
Duration: 93
DVD Release: January 2000
Day of Wrath is set in a 17th century Danish village where an old woman is accused of witchcraft, which she had confessed to in order to save the film's main character, Anne. Faced with death at the stake, however, she denounces Anne and this sets in motion the rest of the film.
---
| | |
| --- | --- |
| Lisbeth Movin | Anne Pedersdotter (Absalon's second wife) |
| Albert Høeberg | The Bishop |
| Anna Svierkier | Herlofs Marte |
| Harald Holst | |
| Preben Lerdorff Rye | Martin (Absalon's son from first marriage) |
| Sigrid Neiiendam | Merete (Absalon's mother) |
| Emanuel Jørgensen | |
| Thorkild Roose | Rev. Absalon Pederssøn |
| Poul Schierbeck | Composer |
| Karl Andersson | Cinematographer |
| Anne Marie Petersen | Editor |
| Edith Schlüssel | Editor |
Genre: Drame et Émotion
Media: DVD
Sound: Analog