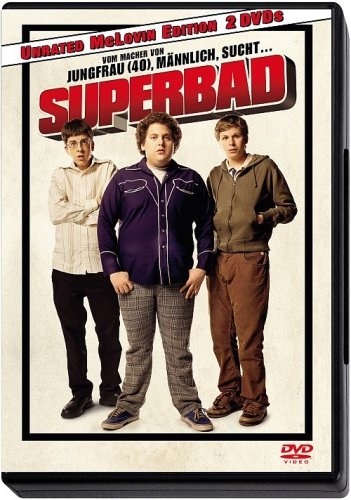 Come and Get Some










Stars: Jonah Hill, Michael Cera, Christopher Mintz-Plasse, Bill Hader, Seth Rogen
Director: Greg Mottola
Writer: Evan Goldberg, Seth Rogen
Language: German
Studio: Sony Pictures Home Entertainment
Duration: 114
Rated: R
DVD Release: December 2007
Evan and Seth are two dorky high school guys. Evan is your prototypical "nice guy" who has a crush on his classmate Becca. Seth, on the other hand, is sex obsessed and vulgar. He's dying to get laid by any available female, but especially a girl named Jules. After Evan's super nerdy friend Fogell obtains a fake ID, the guys embark on a mission to impress the girls with their "coolness" by getting alcohol for Jules' party. From there all sorts of hilarious and wacky hi jinks ensue.
But this movie isn't so much about the plot as about the characters. In contrast to the glamourized and phony teens often depicted by Hollywood Seth and Evans seem real. They look, act and talk like actual teenagers, with all their vulgarity and false bravado attempting to mask their adolescent insecurities and confusion. Judd Apatow produced and Seth Rogen co-write and acted in this film. It shows, as this movie reflects the authenticity and excellence they achieved with "Freaks And Geeks" (my all time favorite TV program) more than any of their previous cinematic efforts.
But with comedy the ultimate goal is to be funny and this movie made me laugh more than any in recent memory. That combined with it's subtle intelligence, heart felt ending and insighful depiction of teen life makes it rank right up there among my all time favorite comedies.
---
| | |
| --- | --- |
| Jonah Hill | Seth |
| Michael Cera | Evan |
| Christopher Mintz-Plasse | Fogell |
| Bill Hader | Officer Slater |
| Seth Rogen | Officer Michaels |
| Martha MacIsaac | Becca |
| Emma Stone | Jules |
| Aviva | Nicola |
| Joe Lo Truglio | Francis the Driver |
| Kevin Corrigan | Mark |
| Clement Blake | Homeless Guy |
| Erica Vittina Phillips | Liquor Store Cashier |
| Joe Nunez | Liquor Store Clerk |
| Dave Franco | Greg the Soccer Player |
| Marcella Lentz-Pope | Gaby |
| Aviva Baumann | Nicola (as Aviva) |
| Scott Gerbacia | Jesse (as Scottie Gerbacia) |
| Laura Seay | Shirley |
| Roger Iwami | Miroki |
| John Clint Mabry | Prosthetic Leg Kid (as Clint Mabry) |
| Stacy Edwards | Evan's Mom |
| Mark Rogen | Father with Bat |
| Charlie Hartsock | Good Shopper Cashier |
| Dona Hardy | Old Lady |
| Charley Rossman | Good Shopper Security |
| Carla Gallo | Period Blood Girl |
| Ben Best | Quince Danbury |
| Jody Hill | Tut Long John Silver |
| Kevin Breznahan | Patrick Manchester |
| David Krumholtz | Benji Austin |
| Mousa Kraish | Billy Baybridge |
| Nicholas Jasenovec | Coffee Fairmount |
| Martin Starr | James Masselin |
| Keith Loneker | Wild Bill Cherry (as Keith Joseph Loneker) |
| Matt McKane | Kane Cloverdale (as Matthew McKane) |
| Lauren Miller | Scarlett Brighton |
| Peter Salett | Tiger Greendragon |
| Rakefet Abergel | Muffin Selby |
| Brooke Dillman | Mrs. Hayworth |
| Michael Naughton | Gym Teacher |
| Steve Bannos | Math Teacher |
| Casey Margolis | Young Seth |
| Laura Marano | Young Becca |
| Matthew Bass | Vagtastic Voyager |
| Aurora Snow | Vagtastic Voyage Girl |
| Jenna Haze | Vagtastic Voyage Girl |
| Ted Haigh | Bartender |
| Michael Fennessey | Bus Driver |
| Brian Huskey | Elementary Principal |
| Clark Duke | Party Teenager |
| Stephen Borrello IV | Party Teenager |
| Naathan Phan | Party Teenager |
| Pamella D'Pella | Teacher |
| Lyle Workman | Composer |
| Russ T. Alsobrook | Cinematographer |
| William Kerr | Editor |
| Debra McGuire | Custome Designer |
| Merribelle Anderson | key hair stylist (as Merribelle A. Anderson) |
| Dena Fayne | hair stylist |
| Maggie Fung | Makeup Artist |
| Kimberly Greene | makeup department head |
| Lana Grossman | key makeup artist (as Lana Horochowski) |
| Robert Hall | special makeup effects: Almost Human Inc. |
| Tatiana Thorpe | Makeup Artist |
| Melissa A. Yonkey | hair department head |
| Christa Vausbinder | Production Supervisor |
| Dara Weintraub | Unit Production Manager |
| Steven F. Beaupre | second assistant director |
| Scott Robertson | first assistant director |
| Nikki Swasey Seaton | second second assistant director (as Nicole Swasey) |
| George H. Anderson | supervising sound editor (as George Anderson) |
| Steve Bartkowicz | sound re-recording engineer |
| Ann Ducommun | assistant sound editor |
| Tammy Fearing | supervising adr editor |
| Marc Fishman | Sound Re-Recording Mixer |
| Tom Fox | Boom Operator |
| Vincent Guisetti | foley artist |
| Pamela Kahn | foley artist (as Pamela Nedd Kahn) |
| Larry Kemp | dialogue editor |
| Tony Lamberti | Sound Re-Recording Mixer |
| Harrison D. Marsh | Sound mixer |
| Cindy Marty | Sound Effects Editor |
| James Matheny | dialogue editor |
| Jordan O'Neill | DTS Sound Mastering Engineer |
| Kyle Rochlin | foley mixer |
| Joe Schiff | foley editor |
| Cherie Tamai | assistant sound editor |
| Bob Stoker | Special Effects Coordinator |
| Paul Vigil | special effects technician (as Paul E. Vigil) |
| Richard Crudo | plate photography |
| David Geoghegan | digital compositor |
| Sean Kennedy | digital effects artist: Pacific Vision Productions |
| Paulina Kuszta | visual effects coordinator |
| Nick Theodorakis | digital imaging technician |
| Kenny Alexander | Stunts |
| Cody Gill | Stunts |
| Buddy Joe Hooker | Stunts |
| Mic Rodgers | Stunts |
| Michael Runyard | Stunts |
| Tim Trella | Stunt Coordinator |
Genre: Comedy
Media: DVD
Sound: SDDS