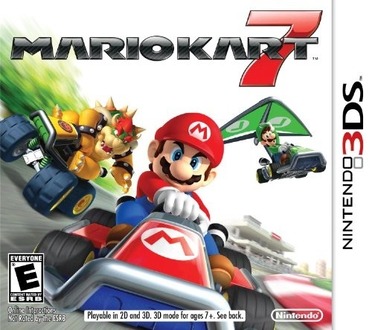 Developer: Nintendo EAD
Platform: Nintendo 3DS
Genre: Racing, Driving
Publisher: Nintendo
Series: Mario Kart
Rated: Everyone
Mario Kart 7 (マリオカート7 Mario Kāto Sebun?)[2] is a 2011 racing video game in the Mario Kart series, developed by Nintendo EAD and Retro Studios and published by Nintendo for the Nintendo 3DS handheld game console.[2] The game was released worldwide in early December 2011.[3] Mario Kart 7 is the most recent iteration in the Mario Kart series, following Mario Kart Wii from 2008.
Similar to previous games in the series, players participate in go-kart racing on various Mario-themed tracks, playing as one of seventeen different Mario characters. While racing, the players make use of power-up items that hinder opposing characters. New additions to the game include hang-gliding attachments for karts, the ability to drive underwater, and the ability to fully customize the vehicles' builds.[4] Mario Kart 7 supports both local and online multiplayer for up to eight players.[5]
Mario Kart 7 received positive reception, gaining aggregate critical scores of 85 and 84.96% on MetaCritic and GameRankings respectively.
---
Features: Players can compete in local wireless matches or online over a broadband Internet connection. The game supports both SpotPass and StreetPass features. Players can show their own style by customizing their vehicles with accessories that give them a competitive advantage. For instance, giant tires help a kart drive off-road, while smaller tires work best on city courses. People can choose to race as one of their favorite Mushroom Kingdom characters or even as their Mii character. The Mario Kart franchise continues to evolve. New kart abilities add to the wild fun that the games are known for. On big jumps, a kart deploys a wing to let it glide over a track shortcut. When under water, a propeller pops out to help the kart cruise across the sea floor.