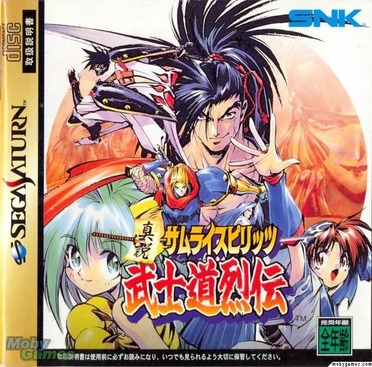 Shinsetsu Samurai Spirits Bushidouretsuden
(1997)










Developer: SNK Corporation
Platform: Sega Saturn
Genre: Action, Role-Playing (RPG)
Publisher: SNK Corporation
Series: Samurai Shodown
Shinsetsu Samurai Spirits Bushidouretsuden (unofficially known in the Western world as Samurai Shodown RPG) is a typical Japanese role game with small in-game characters that is based on the Samurai Shodown universe. You will find objects, enter in fights or get accessories that will be definitive for your success.
You can start the adventure as any of the 6 personages that are available (Haohmaru, Nakoruru, Genjuro Kibagami, Galford D. Weller, Ukyo Tachibana and Cham Cham). The main line of the argument does not diverge much depending on your choice, the differences will be more noticeable in the dialogues or the appearance of some character-focused scenes thorough the game.
The fighting mode is fairly different to those we can find in other RPGs where what we do is choosing one option among a list of attacks. Here we should execute the moves pressing the same button combinations we used to do in the arcade fighting games.
Each of the system versions have their own "extras", being the ones of PS and Saturn the more similar between themselves, and that of Neo Geo CD being the one were they are fairly more abundant.