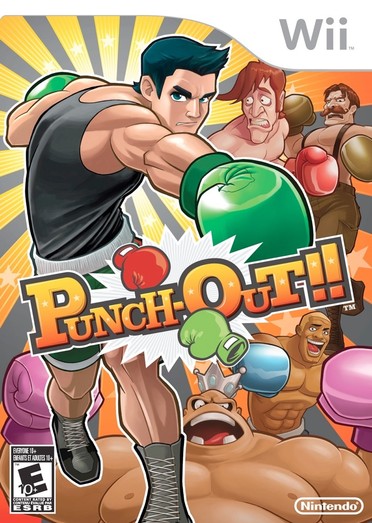 Developer: Next Level Games, Inc.
Platform: Wii
Genre: Sports
Publisher: Nintendo of America Inc.
Series: Punch-Out!!
Rated: Everyone 10+
Enter the ring as Little Mac, and get ready to fight your way to the Championships! Take on an assortment of tricky boxers, each one more dangerous than the last. Every boxer you encounter has their own special moves and tricks, and you'll have to rely on your reflexes as well as your fists to beat them all.
Punch-Out!! is a sequel to the NES game of the same name. Players pick up the gloves of Little Mac, a rookie boxer aiming to make his way to the Championships and claim the title belts. He'll have to duke it out with different boxers, each of who has their own special method of attack. Mac can swing his left fist or right fist to punch, and can uppercut, dodge left and right, and duck. Using these moves, he must wait for his opponent's opening, and strike them when they are vulnerable to beat them. If Mac's punches are blocked, he will lose some Stamina. If he loses all of his Stamina, he will become winded and will not be able to punch. Mac will need to dodge some punches before he can attack again.
If Mac performs a punch which catches his opponent off-guard, he will earn a Star. Mac can earn up to three Stars - these can be used to hit with a powerful Star Punch. The more Stars Mac has saved, the more powerful his Star Punch is. However, if Mac is hit even once while he has any Stars, he will lose them all.
After defeating opponents in Career Mode, players can then battle them again in Exhibition Mode. In this mode, there are special goals for the player to achieve, such as finding an opponent's one-hit knockdown spot, completing the fight without becoming winded, or landing all your punches during the fight on your opponent.
Punch-Out!! also includes a two-player versus mode. In this mode, both players play as Little Mac. However, Mac now has a special trick - if the player earns enough 'Giga Mac Juice' (earned by hitting the opponent when they are blue), they can turn into Giga Mac, a monstrous version of themselves with incredible punches, uppercuts and power.
---
Features: Players have the option to play using the classic layout from the original NES controller. Use the 1 and 2 buttons along with the cross pad to throw hooks and jabs or to dodge. The ultimate boxing underdog Little Mac returns as the hero in this re-imagining of a gaming classic. Large character roster including: Little Mac, Glass Joe, King Hippo, Doc Louis, Von Kaiser and others. Players can obtain special 'Star Punches,' which allow Little Mac to take more Health from his rival in a single punch. The Wii Remote/Nunchuk controller configuration allows players to simulate punching and ducking for a realistic boxing feel.