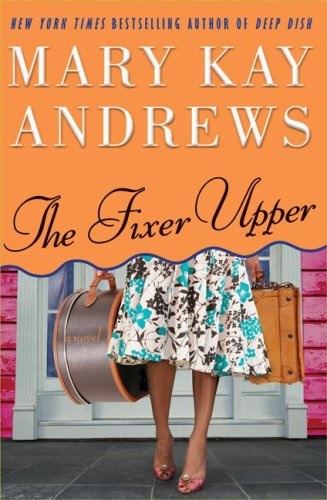 Author: Mary Kay Andrews
Publisher: Harper
Pages: 432
ISBN: 9780060837389
Genre: Literature & Fiction
Format: Hardcover
Book Description

The delightful "New York Times" bestselling author returns with a hilarious novel about one woman's quest to redo an old house . . . and her life.
After her boss in a high-powered Washington public relations firm is caught in a political scandal, fledgling lobbyist Dempsey Jo Killebrew is left almost broke, unemployed, and homeless. Out of options, she reluctantly accepts her father's offer to help refurbish Birdsong, the old family place he recently inherited in Guthrie, Georgia. All it will take, he tells her, is a little paint and some TLC to turn the fading Victorian mansion into a real-estate cash cow.
But, oh, is Dempsey in for a surprise when she arrives in Guthrie. "Bird Droppings" would more aptly describe the moldering Pepto Bismol-pink dump with duct-taped windows and a driveway full of junk. There's also a murderously grumpy old lady, one of Dempsey's distant relations, who has claimed squatter's rights and isn't moving out. Ever.
Furthermore, everyone in Guthrie seems to know Dempsey's business, from a smooth-talking real-estate agent to a cute lawyer who owns the local newspaper. It wouldn't be so bad if it weren't for the pesky FBI agents who show up on Dempsey's doorstep, hoping to pry information about her ex-boss from her.
All Dempsey can do is roll up her sleeves and get to work. And before long, what started as a job of necessity somehow becomes a labor of love and, ultimately, a journey that takes her to a place she never expected--back home again. Mary Kay Andrews's Top Fives
We caught up with Mary Kay Andrews, the prolific author of "The Fixer Upper", "Deep Dish" and other bestselling Southern-fried romances, and learned about a few of her favorite things--from books to musicals to interior decorating tips (a passion of hers which plays a prominent role in her new book).
Top Five Books "Rebecca" by Daphne du Maurier "Void Moon" by Michael Connelly "Big Stone Gap" by Adriana Trigiani "Crazy for You" by Jennifer Crusie "Get Shorty" by Elmore Leonard
Top Five Movies/DVDs "Sabrina" (the original with Audrey Hepburn) "Charade" (again, the original with Audrey Hepburn) "When Harry Met Sally" "Auntie Mame" (not the gawdawful musical) "The Quiet Man" Top Five Movie Musicals "Camelot" "Funny Girl" "South Pacific" "My Fair Lady" "West Side Story"
Top Five Decorating Books "Shabby Chic" by Rachel Ashwell "A House in the South" by Frances Schultz and Paula Wallace "Mary Emmerling's Beach Cottages" by Mary Emmerling "Mary Emmerling's American Country Cottages" by Mary Emmerling "An Affair with a House" by Bunny Williams
Top Five Renovating Tips An old house needs old doors, hardware and fixtures. Nothing says "new and cheap" faster than a flimsy hollow-core door and bright gold repro brass hardware. Look for solid wood doors and wood frame windows at salvage yards and antique markets. And don't forget to check the "building materials" category on Craigslist. I got all the doors for my beach house off Craigslist--for $5 apiece. Vintage hardware can frequently be found at flea markets, or check online sources like eBay. Vintage light fixtures give a great look--but be sure you factor in the cost of re-wiring them, and finding good-looking shades. Nothing gives a lamp that "granny" look faster than a dingy yellow shade. Before you invest in antique cast-iron claw-foot tubs or sinks, make sure they have proper fittings. Measure drains and faucet spreads and make sure you can find new ones that will fit and function properly. Antique toilets are generally a bad idea--most local codes require low-flow toilets for water conservation. Before re-wiring a house, put together a furniture floor plan. You don't want a heat register under the living room sofa, but you will want outlets on either side of the bed for reading lamps, and for any area that might be used as an office you'll want plenty of grounded plugs. And how about that flat-screen television your husband wants? Plan now for cable locations. Be flexible. A great fireplace surround could become a headboard, as could an old paneled door--turned sideways. And that leaded glass window that had to be removed in the remodel? Why not fit it with mirrors and a hinge and make it into a bathroom medicine cabinet? Top Five Best Junking Finds Pair of barrel-back armchairs--$30 at an estate sale. They were covered in gold embossed vinyl when I found 'em. But with the legs stained ebony, and a gorgeous blue Ralph Lauren fabric reupholstery, they're perfect by my fireplace. Set of eight antique Wedgewood black and cream transferware plates--$30 at an estate sale. The seller's mother used some of them for cat dishes, others as an ashtray! Vintage landscape oil painting, Tuscany maybe? Or Provence? Who cares! Bought at a "divorce sale"--the ex-husband sold this beautiful painting for $50 because it had belonged to his ex-wife. I spent a small fortune framing it, but it's the basis for a collection of treasured landscape paintings. Wicker settee, Salvation Army find for $25. I'd walked to the store, and had to hoof it back home in a hurry for money and my car. Faux alligator train case--found at a yard sale. When I asked the seller if she'd do better on the price, she replied that she'd give it to me for free--if I could figure out how to open it. Since it had a combination lock like the one on my high school graduation luggage, I twirled the dial to 0-0-0--because I never figured out how to change mine--and sure enough, the lock popped open. Score!