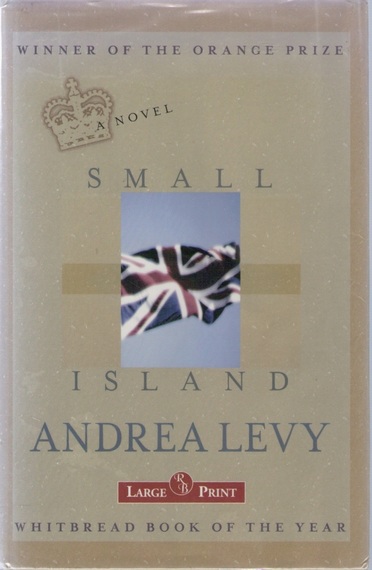 Author: Andrea Levy
Publisher: Headline Review
Pages: 544
ISBN: 9780755307500
Genre: Fiction
Format: Paperback
Andrea Levy's novel (her fourth, and how ashamed do I feel now for never having heard of her before?) has already won the Orange Prize and the Whitbread Novel award, and is now favourite on the shortlist for the overall Whitbread Book of the Year. It deserves them all. (And this is a message, too: the Whitbread is now the award to watch. Didn't it daringly give ostensibly a children's book the Book of the Year award in 2001 for Pullman's exceptional The Amber Spyglass? In the Booker this year, Small Island didn't even make the longlist.)
The 'today' of the novel is 1948, when Queenie Bligh has given up waiting for her husband Bernard to come back from his service in the Second World War, and to make ends meet has let rooms in her house out to immigrants from Jamaica, among them Gilbert Joseph and his wife Hortense. And that is Small Island in a sentence. But it takes us back through the four main characters' lives before and during the war, each speaking to us in their own voice. The ventriloquism is elegant and brilliantly managed, making us sympathetic to all the characters in turn, and gripped by their flowingly told stories; so much so that when they come into conflict at the end of the novel, we are as torn as they are, and don't know which way to turn.
There is tragedy and comedy everywhere in Small Island, and Levy seems incapable of misjudging the tone, whether she wants to depict casual racism, tender young friendship, cold middle-class romance, or the numb relentlessness of twentieth century warfare. The writing is frequently beautiful, and she has a way of approaching a new scene sidelong, rather than head-on, that brings the reader into it with freshness and curiosity. Minor characters come alive. If she puts a foot wrong, it may be in the particular details (can't give it away) of the central coincidence which drives the major 'twist' of the book - the world's not that small an island, surely - but if you already love the book by then, you'll shrug and let it go.
Small Island, then, is an exceptional achievement, an outright, downright, upright, leftright masterpiece. There's something for everyone - the formal artistry of the four voices, the back-and-forward structure, the crossing and recrossing of fates, the heartwrenching losses, the sparky dialogue. I'm just sorry that it's only the 18th of January as I write this because then it sounds like a gag when I say it's the best book I've read all year. But you know what I mean.