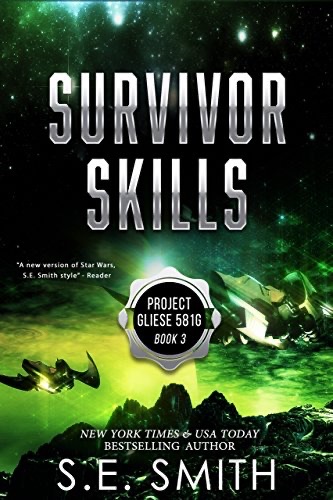 Survivor Skills:(Project Gliese 581g Book 3)
(2018)










Author: Smith S.E.
Publisher: Montana Publishing
Language: English
Pages: 234
Series: Project Gliese 581g(#3/3)
Genre: Sci Fi & Fantasy
Format: Audible Audiobook
Sergi Lazaroff is a weapons expert and a member of the Russian FSB. Assigned to the Project Gliese 581g exploration team, his job was supposed to be simple - find out what was in space, retrieve the technology, and return home with it. When he wakes up on an alien planet, Sergi knows the last part of his mission will be impossible. Instead, he must use his military skills to survive in a world where he doesn't know the rules.
La'Rue Gant's search for the mysterious occupant of the pod that landed on the assassin planet of Turbinta quickly turns into a game of predator versus prey. She found what she was looking for - and discovers that the legends may be true when she becomes the hunted. What she doesn't expect is the powerful reaction she has to this man from another world.
When word reaches them that another member of the Gliese's crew has been found, Sergi and La'Rue embark on a mission to save that member at any cost. Can they slip through the traps set up to snare them, or will the Legion Director finally capture not one, but two of the prophesied ancient Knights of the Gallant?