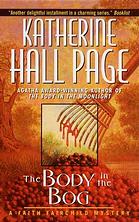 The Body In The Bog
(2009)










Author: Katherine Hall Page
Publisher: HarperCollins
Language:
Series: Faith Fairchild mystery
ISBN: 9780380727124
Format: Mass Market Paperback
Faith Fairchild is momentarily shocked to find her husband, the Reverend Thomas Fairchild, embracing Lora Deane -- and relieved to discover the distraught nursery school teacher is merely seeking solace and advice. Lora has been receiving threatening phone calls. And she's not the only resident of tiny Aleford, Massachusetts, who is being terrorized. Ever since local environmentalists have begun protesting the proposed housing development that will destroy Beecher's Bog, the more vocal opponents have become targets of a vicious campaign of intimidation-which is more than enough reason for Faith to launch into some clandestine sleuthing. But when a body turns up in the charred ruins of a very suspicious house fire, Faith is suddenly investigating a murder -- and in serious danger of getting bogged down in a very lethal mess indeed!
 Read more...