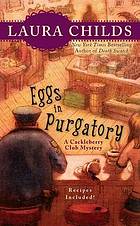 Author: Laura Childs
Publisher: Berkley Prime Crime
Language:
Series: Cackleberry Club mystery
ISBN: 9780425224953
Genre: Fiction, Mystery fiction
Format: Mass Market Paperback
Suzanne, Toni, and Petra lose their husbands but find independence when they open the Cackleberry Club. Then their cozy cafe becomes the scene of a crime when a lawyer dies with a secret on his lips and egg on his face. What this all has to do with a religious cult and Suzanne's past could put her own life on the line.