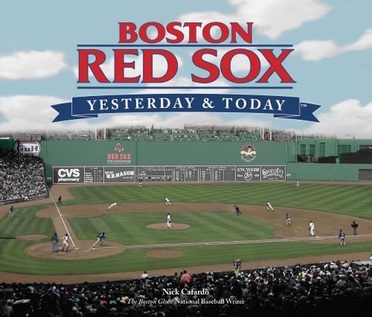 Boston Red Sox: Yesterday & Today
(2007)










Author: Nick Cafardo
Publisher: West Side Publishing
Pages: 144
ISBN: 9781412714549
Genre: Baseball: History, Boston Red Sox
Format: Hardcover
Boston Red Sox: Yesterday & Today brings to life the most cherished moments in Boston Red Sox history through thrilling photographs and text.
In more than a century of existence, the Red Sox have fielded an array of unforgettable teams and legendary players. The Red Sox have given their fans countless memories, both wonderful and heartbreaking. Each moment of the Red Sox story is relived from the four championships from 1912 to 1918 to the disappointing losses in the following decades to the cathartic World Series victories in 2004 and 2007.
This handsome hardcover book contains photos and stories that perfectly capture the highs and the lows of the Red Sox. Among other things, you ll read about:
All of the Red Sox greats, including Babe Ruth, Jimmie Foxx, Ted Williams, Carlton Fisk, Carl Yastrzemski, Jim Rice, Roger Clemens, Manny Ramirez, and David Ortiz
The team s iconic stadium, Fenway Park, which is the oldest in baseball and features the legendary Green Monster in leftfield
Boston Red Sox: Yesterday & Today with so many photos and stories is your ticket into all things Red Sox.