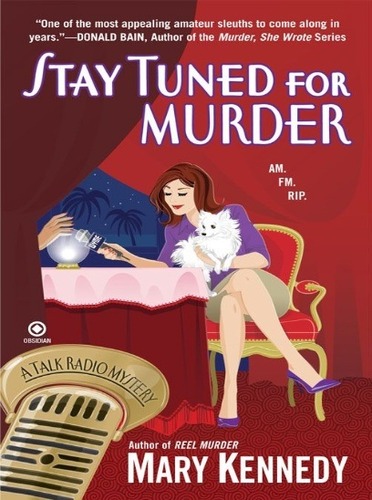 Stay Tuned for Murder
(2011)










Author: Mary Kennedy
Publisher: Signet
Pages: 320
Series: Talk Radio (3)
ISBN: 9780451232359
Genre: World Literature
Format: Mass Market Paperback
Review
4 and 1/2 stars, the TOP RATING!
Radio psychologist Maggie Walsh returns for another adventure...just don't spill your tea while laughing! This series is guaranteed to gain more fans with each book.
.(_Reviewed By: Page Traynor_
--Romantic Times
"You definitely want to tune in to this one...fresh, fun, and exciting! --THE BEST REVIEWS
"One of the most appealing amateur sleuths to come along in years."  --Donald Bain, author of the MURDER, SHE WROTE series
"Mary Kennedy's smart and sophisticated radio shrink uses her wit and wiles to catch a killer. Frasier would be jealous!" --NANCY MARTIN, author of The Blackbird Sisters Mysteries
"A breezy quick read, with oddball characters and a warm, tropical setting." --THE MYSTERY READER
Product Description
Maggie's radio show has been getting a boost in ratings ever since Madame Chantal, who claims to talk to dead people, started her regular guest appearance. But when two women are killed after a séance, it's up to Maggie to catch the culprit before she winds up on the other side...