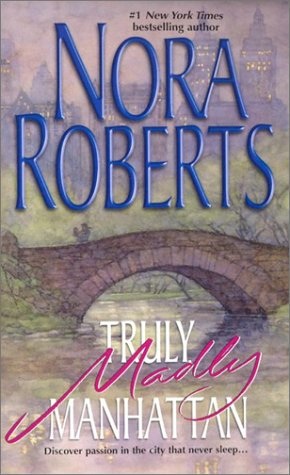 Truly, Madly Manhattan
(2003)










Author: Nora Roberts
Publisher: Silhouette
Pages: 480
ISBN: 9780373218035
Genre: Romance
Format: Mass Market Paperback
Discover passion in the city that never sleeps . . .
#1 "New York Times" bestselling author NORA ROBERTS presents the passionate heart of the city that never sleeps, in these two complete novels . . .
LOCAL HERO
His trade was creating heroes, but comic book writer Mitch Dempsey had never seen himself as one. But something about Hester Wallace, the shy single mom who moved in upstairs, made him long to protect, honor and love her forever. . . .
DUAL IMAGE
Playing Booth DeWitt's cruel ex-wife was pushing Ariel Kirkwood's acting career in the right direction -- but pushing sexy Booth away. She wanted to be his leading lady -- for life. Could she convince Booth to see her for the woman she truly was?