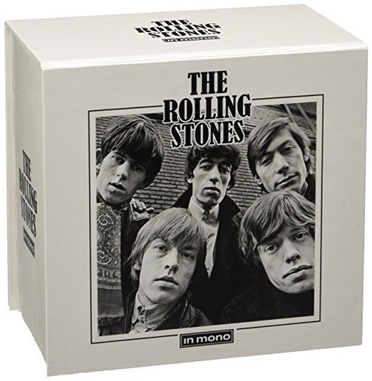 The Rolling Stones In Mono
(2016)
The Rolling Stones










Label: ABKC0 Records
Duration:
Genre: Rock, Singer Songwriters
This year, for the first time ever, all mono studio recordings released by The Rolling Stones in the 1960s will be available in one unique historic collection. The collection will contain a total of 186 tracks, 56 of which have never before been heard in mono since the advent of the digital age.   Spanning the era between 1963 and 1969, The Rolling Stones in Mono covers the formative years of "The Greatest Rock & Roll Band in the World."  During this era, most rock and pop recordings were originally recorded in mono, with stereo often an afterthought, dealt with only following the completion of the original (mono) version of a given track.  In short, mono reigned and this was, indeed, the case for the Rolling Stones during the period. While typical playback systems of the time were less than sophisticated, the original mono recordings, especially as heard through quality components, were of the highest audio quality and had a powerful and very direct impact. "You felt you were in the room . . . listening to exactly what went down in the studio, no frills, no nothing," Keith Richards wrote in his autobiography, Life. "Rock was a completely new musical form," Mick Jagger explained in a 1995 Rolling Stone interview. "It hadn't been around for ten years when we started doing it . . . You felt like one of the chosen few, one of the only ones in the world who would get to play with this new toy. We had evangelical fervor."  Late recording engineer Dave Hassinger explained how he mixed his '64-'66 work for the Stones in mono, "They always played together at the same time," Hassinger said. "They would run the parts down, work out the changes here and there, nail it down, then start recording." Rolling Stone senior editor David Fricke, in his 5,000-word essay that accompanies the set, writes, "The Rolling Stones in Mono is the full studio account of that first decade of history and mayhem, newly remastered with unprecedented fidelity and revelatory detail." His commentaries are included with the CD box sets as part of a 4-color deluxe 48 page lie flat book that features numerous rare photos by renowned photographer Terry O'Neill. The 15 CDs are housed in the original full color album jackets that fit along with the book into a one piece specially crafted box. The Rolling Stones in Mono was mastered by acclaimed GRAMMY award winning engineer Bob Ludwig at Gateway Mastering. For the project he utilized Direct Stream Digital (DSD) transfers from the original master recordings, with a sampling rate of 2,822,400. Lacquer cutting for vinyl was performed at Abbey Road Studios by Alex Wharton and Sean Magee. The Rolling Stones in Mono project has been overseen by Teri Landi, ABKCO's Grammy award winning Chief Audio Engineer.   Albums included in the box set are THE ROLLING STONES / 12 X 5 / THE ROLLING STONES NO.2 / THE ROLLING STONES, NOW! / OUT OF OUR HEADS (US) / OUT OF OUR HEADS (UK) / DECEMBER'S CHILDREN (AND EVERYBODY'S) / AFTERMATH (UK) / AFTERMATH (US) / BETWEEN THE BUTTONS (UK) / FLOWERS / THEIR SATANIC MAJESTIES REQUEST / BEGGARS BANQUET / LET IT BLEED / STRAY CATS **
---
Track
Route 66
I Just Want To Make Love To You
Honest I Do
Mona (I Need You Baby)
Now I've Got a Witness
Little by Little
I'm A King Bee
Carol
Tell Me
Can I Get A Witness
You Can Make It If You Try
Walking the Dog
Around And Around
Confessin' The Blues
Empty Heart
Time Is On My Disc
Good Times, Bad Times
It's All Over Now
2120 South Michigan Avenue
Under the Boardwalk
Congratulations
Grown Up Wrong
If You Need Me
Susie Q
Everybody Needs Somebody To Love
Down Home Girl
You Can't Catch Me
What a Shame
Down The Road Apiece
I Can't Be Satisfied
Pain In My Heart
Off The Hook
Everybody Needs Some Body To Love
Heart Of Stone
Oh Baby (We Got a Good Thing Goin')
Little Red Rooster
Surprise, Surprise
Mercy Mercy
Hitch Hike
The Last Time
That's How Strong My Love Is
Good Times
I'm Alright
(I Can't Get No) Satisfaction
Cry To Me
The Under Assistant West Coast Promotion Man
Play With Fire
The Spider And The Fly
One more try
She Said Yeah
Gotta Get Away
Talkin' 'bout You
I'm free
You Better Move On
Look What You've Done
The Singer Not The Song
Get Off Of My Cloud
As Tears Go By
Blue Turns To Grey
I'm Moving On
Mother's Little Helper
Stupid Girl
Lady Jane
Under My Thumb
Doncha Bother Me
Going home
Flight 505
High And Dry
Out Of Time
It's Not Easy
I Am Waiting
Take It Or Leave It
Think
What To Do
Paint It, Black
Yesterday's Papers
My Obsession
Back Street Girl
Connection
She Smiled Sweetly
Cool, Calm & Collected
All Sold Out
Please Go Home
Who's Been Sleeping Here?
Complicated
Miss Amanda Jones
Something Happened To Me Yesterday
Ruby Tuesday
Have You Seen Your Mother, Baby, Standing In The Shadow?
Let's Spend The Night Together
My Girl
Ride On, Baby
Sittin' On A Fence
Sing This All Together
Citadel
In Another Land
2000 Man
Sing This All Together (See What Happens)
She's a Rainbow
The Lantern
Gomper
2000 Light Years From Home
On with the Show
Sympathy for the Devil
No Expectations
Dear Doctor
Parachute Woman
Jig
Street Fighting Man
Prodigal Son
Stray Cat Blues
Factory Girl
Salt of the Earth
Gimme Shelter
Love In Vain
Country Honk
Live With Me
Let It Bleed
Midnight Rambler
You Got The Sliver
Monkey Man
You Can't Always Get What you Want
Come On
I Want To Be Loved
I wanna be your man
Stoned
Fortune Teller
Poison Ivy (Version 1)
Bye Bye Johnny
Money
Poison Ivy (Version 2)
Not Fade Away
I've Been Loving You Too Long
The Under Assistant West Coast Promotion Man (Single Version)
19th Nervous Breakdown
Sad Day
Con Le Mie Lacrime (As Tears Go By)
Long, Long While
Who's Driving Your Plane?
We Love You (Single Version)
Dandelion (Single Version)
Child of the Moon
Jumpin' Jack Flash
Street Fighting Man (Single Version)
Honky Tonk Women
You Can't Always Get What You Want (Single Version)
Arranged By:
Producer: Andrew Loog Oldham
UPC: 18771834526