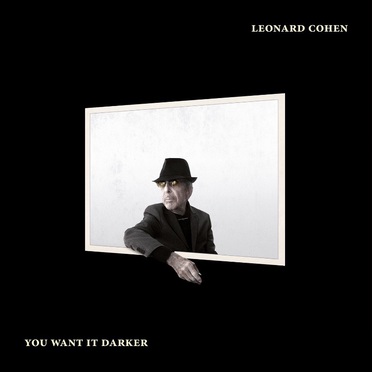 You Want It Darker
(2016)
Leonard Cohen










Label: Columbia
Duration: 36:11
Genre: Folk, World & Country
Given the subject matter addressed in the title and other tracks on You Want It Darker and Leonard Cohen's advanced age (82), it's tempting to hear this as a last album. In advance of its release, he told The New Yorker he was ready to die, but later walked back that comment. He wrote some of songs solo, and others with Sharon Robinson and Patrick Leonard. In declining health, and required to sing from a medically designed chair, Cohen enlisted his son Adam to produce.
Cohen's sepulchral voice expresses a wealth of emotion. He is weathered but defiant in acknowledging failures, regrets, brokenness, and even anger. Typically, redemption arrives in these songs with unflinching honesty. The title track is introduced by a choir and a foreboding bassline, its lyrics as much an indictment of human concepts of religion as a confessional reflection, balanced by personal doubt and acceptance. Cantor Gideon Y. Zelermyer engages with the sacred even as Cohen wrestles with it. For every, "Hineni, Hineni/I'm ready my Lord…" there is a counter: "...Magnified and sanctified/Be thy Holy Name/Vilified and crucified/In the human frame/A million candles burning/For the help that never came…." In the final verse he asserts: "If you are the dealer/I want out of this game," but Zelermyer and the choir answer and carry him with resolute devotion. "Treaty" recalls the melody of "Anthem" as piano, synth strings, and chorale highlight the poignancy in his lyric. Cohen equates the past with earned insights and an offer of amends: "We sold ourselves for love but now we're free/I'm sorry for the ghost I made you be…." "Leaving the Table" is a bittersweet country waltz where Cohen reveals things he no longer needs (even if he wishes he did), and underscores his impending exit: "I don't need a pardon/There's no one left to blame/I'm leaving the table/I'm out of the game." The intersection of blues, and Yiddish and gypsy folk on "Traveling Light" flows through bouzoukis, mandolins, and drum loops. Their union recalls the haunted musical qualities of 1984's Various Positions.
In song after song, Cohen delivers lyric juxtapositions that settle scores with God, past lovers, and himself, but almost always arrives at equanimity. He sounds like a spent Jeremiah alone in a cave conversing with God rather than the biblical figure transported to heaven in a fiery chariot. After coming to terms with the ghosts in his past and his acceptance of mortality, Cohen emits a resilient flicker of hope for total reconciliation in the shadows. A tender reprise of "Treaty" is adorned only by strings and his vocals as he expresses hope for detente: "I wish there was a treaty/between your love and mine." Amid the list of gripes, sins, and losses detailed on You Want It Darker, Cohen remains open to whatever earthly light offers even as his gaze shifts toward the eternal. He makes no compromises. These songs reveal that when all contradictions are nakedly exposed, all one can do is embrace them. Whether this is or isn't goodbye, You Want It Darker is one hell of a record.
by Thom Jurek
allmusic.com
---
| Track | Duration |
| --- | --- |
| You Want It Darker | 4:44 |
| Treaty | 4:02 |
| On The Level | |
| Leaving The Table | |
| If I Didn't Have Your Love | 3:36 |
| Traveling Light | 4:22 |
| It Seemed The Better Way | |
| Steer Your Way | 4:23 |
| String Reprise/ Treaty | |
Original Release: 2016-01-01
Composer: Adam Cohen, Leonard Cohen, Patrick Leonard, Sharon Robinson
Producer: Adam Cohen
UPC: 889853650729