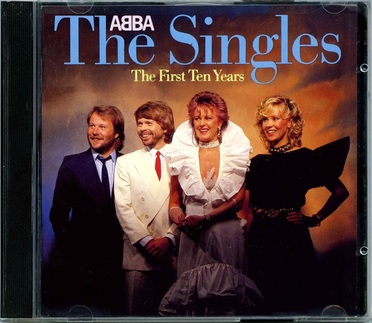 The Singles (The First Ten Years)
(1982)
ABBA










Label: MabbaRecords
Duration: 1:31:47
Genre: Pop
Tray Insert: CD Manufactured by Polygram in Hanover West Germany, A Polar Music International production. Imprimé en Allemagne par Neef, Wittingen.Made in West Germany
Same 6 page booklet as previous releases such as: [r=5475918].
Similar to [r=9307775], but with only Made In W. Germany printed on disc surface and a transparent inner ring.
---
| Track | Duration |
| --- | --- |
| Ring, Ring | 3:05 |
| Waterloo | 2:48 |
| So Long | 3:07 |
| I Do, I Do, I Do, I Do, I Do | 3:18 |
| SOS | 3:23 |
| Mamma Mia | 3:33 |
| Fernando | 4:13 |
| Dancing Queen | 3:51 |
| Money, Money, Money | 3:08 |
| Knowing Me, Knowing You | 4:02 |
| The Name Of The Game | 4:00 |
| Take A Chance On Me | 4:02 |
| Summer Night City | 3:30 |
| Chiquitita | 5:25 |
| Does Your Mother Know | 3:15 |
| Voulez-Vous | 5:07 |
| Gimme! Gimme! Gimme! (A Man After Midnight) | 4:49 |
| I Have A Dream | 4:41 |
| The Winner Takes It All | 4:55 |
| Super Trouper | 4:12 |
| One of Us | 3:55 |
| The Day Before You Came | 5:48 |
| Under Attack | 3:40 |
| Gimme! Gimme! Gimme! | 4:47 |
Composer: Various Composers
Producer: Benny Andersson, Björn Ulvaeus
UPC: 42281005022