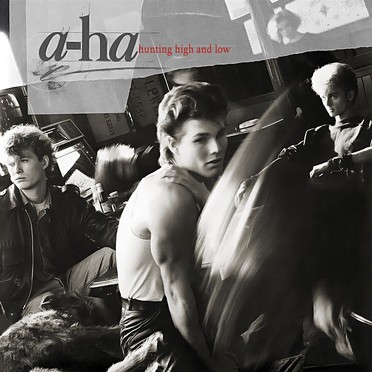 Hunting High And Low
(1990)
A-ha










Label: Warner Bros / Wea
Duration: 37:17
Genre: Alternative Rock
I was just a teen when Take On Me hit the airwaves in the US. The song was/is like no other, as was the video. The ONLY bad thing about this album is that it's too short. If it had 30 songs on it, it would still be too short. It is just like a good book, never long enough.
All the songs on this cd are excellent, and my favorites are Living A Boys Adventure Tale, The Sun Always Shines On Tv and of course, Take On Me.
But if you live in the U.S., then you must think that Take On Me is the only song ever put out by this misunderstood and mislead band. Well I have learned that the radio is NOT the place to go to if you want to listen to good music.
a-ha's second (Scoundrel Days), and third (Stay On These Roads)albums are also excellent and the band sticks to their previous style and sound as in Hunting High and Low. They are both worthy additions to your library. But read on.
But if you want to understand what a mistake the U.S. has made with this band, Warner Bros. especially, then I would recommend you also pick up East of The Sun, West of the Moon and Memoral Beach. These two albums show just how mature the band has become. The songwriting is excellent and the sound is like none other. These albums are TOTALLY different from Hunting High and Low, but then again, why would you want the same thing? Early Morning on EOSWOM and Cold as Stone on Memorial Beach are two examples of this bands greatness. Both could be hits in the U.S. today, if they could just get a little radio airtime. Yeah, right. Most of what is on the radio today is TRASH! Record companies today are signing one album wonders instead of promoting AND supporting good musicians, which in the long run, is beneficial to both parties involved. Radio broadcasters have their songs preselected for them and don't dare play anything not on their list. What a shame and a sham.
Pick up Hunting High and Low, then pick up one of their most recent releases. Go into a quiet room, turn off the lights and simply listen to the albums 3 or 4 times. You won't be dissapointed.
---
| Track | Duration |
| --- | --- |
| Take on Me | 3:46 |
| Train of Thought | 4:11 |
| Hunting High and Low | 3:43 |
| The Blue Sky | 2:22 |
| Living a Boy's Adventure Tale | 5:00 |
| The Sun Always Shines on T.V. | 5:06 |
| And You Tell Me | 1:51 |
| Love Is Reason | 3:04 |
| I Dream Myself Alive | 3:06 |
| Here I Stand and Face the Rain | 4:30 |
| Take on Me [Original 7" Version 1984] [*][Version] | |
| The Sun Always Shines on T.V. [Extended Mix] [*] | |
| Train of Thought [U.S. Mix] [*] | |
| Hunting High and Low [Extended Remix] [*] | |
| Take on Me [Demo] [Demo Version] | |
| Train of Thought [Demo] [#][Demo Version] | |
| Hunting High and Low [Demo] [Demo Version] | |
| The Blue Sky [Demo] [Demo Version] | |
| Living a Boy's Adventure Tale [Early Version] [Version] | |
| The Sun Always Shines on T.V. [Demo] [#][Demo Version] | |
| And You Tell Me [Demo] [Demo Version] | |
| Love is Reason [Demo] [#][Demo Version] | |
| I Dream Myself Alive [Demo] [#][Demo Version] | |
| Here I Stand and Face the Rain [Demo] [#][Demo Version] | |
| stop! and make your mind up | |
| Driftwood | |
| Dot the I [#] | |
| the love goodbye | |
| Nothing to It [#] | |
| Go To Sleep | |
| Monday Morning | |
| All the Planes That Come in on the Quiet [#] | |
| Never Never | |
| What's That You're Doing to Yourself in the Pouring Rain [#] | |
| You Have Grown Thoughtful Again [#] | |
| Lesson One [Autumn 1982 "Take on Me" Demo] [#][Demo Version] | |
| presenting lily mars | |
Original Release: 1985-08-06
Composer: Magne Furuholmen, Morten Harket, Pål Waaktaar
Arranged By:
Producer: Tony Mansfield, John Ratcliff, Alan Tarney
UPC: 75992530026, 81227979997