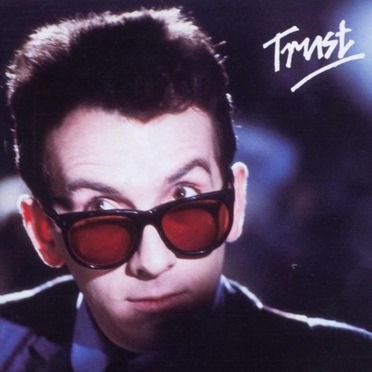 Elvis Costello, The Attractions










Label: Demon Records
Genre: New Wave, Rock Music, Power Pop, Pop music
Trust is an album by Elvis Costello and the Attractions. It is Costello's fifth album, and fourth with the Attractions. It was also his fifth consecutive album produced by Nick Lowe, who handled production on all songs except "Big Sister's Clothes" (which the liner notes make clear by stating that Lowe was "not responsible" for it).
Costello's original intent with Trust was to cross the melody of Armed Forces with the rhythm of Get Happy!! The songs on the album dealt with a general sense of disenchantment he felt during the time, with the recent election of the Conservative government as well as tensions within his first marriage, which gave them an overall cynical tone. As a result, the general lyrical content of the songs describe a world that is essentially the opposite of what the album title implies.
The initial recording sessions were held at DJM, but they were displeased with the results. It did not help that the bandmates were almost constantly under the influence of mood-altering drugs. As Costello wrote in the liner notes of the Rhino reissue:
Recording resumed at Eden Studios, where previous albums had been done.
---
| Track | Duration |
| --- | --- |
| Clubland | 3:45 |
| Lover's Walk | 2:19 |
| You'll Never Be a Man | 2:59 |
| Pretty Words | 3:13 |
| Strict Time | 2:41 |
| Luxembourg | 2:29 |
| Watch Your Step | 3:00 |
| New Lace Sleeves | 3:48 |
| From A Whisper To A Scream | 2:57 |
| Different Finger | 2:00 |
| White Knuckles | 3:50 |
| Shot With His Own Gun | 3:35 |
| Fish 'n' Chip Paper | 2:59 |
| Big Sister's Clothes | 2:13 |
| Black Sails In The Sunset | 3:10 |
| Big Sister | 2:18 |
| Twenty-Five To Twelve | 4:06 |
| Sad About Girls | 2:49 |
| From A Whisper To A Scream (Alternate Version) | 3:27 |
| Watch Your Step (Alternate Version) | 2:47 |
| Clubland (Alternate Take) | 4:03 |
| You'll Never Be a Man (alternate take) | 3:11 |
| Slow down | 2:24 |
| Big Sister (Alternate Version) | 5:07 |
| Black Sails In The Sunset (Alternate Version) | 3:08 |
| Hoover Factory (alternate version) | 1:47 |
| Love for Sale | 3:04 |
| Boy With A Problem | 2:33 |
| Weeper's Dream | 1:07 |
| Gloomy Sunday | 3:16 |
| The Long Honeymoon (Instrumental Piano Demo) | 1:41 |
Original Release: 1981-01-23
UPC: 740155710620