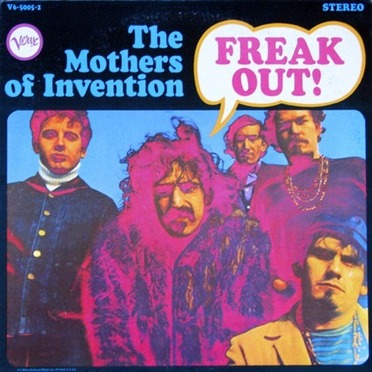 Frank Zappa, The Mothers Of Invention










Label: Verve Records
Genre: Blues, Rock and Roll, Progressive Rock, Symphonic Rock, Spoken Word, Rhythm and Blues, Rock Music, Blues Rock, Psychedelic Rock, Experimental Rock, Experimental Music, Doo Wop, Psychedelic pop, Protopunk, Concept Album, Avant Garde Music, Comedy Rock
Freak Out! is the debut album by American band The Mothers of Invention, released June 27, 1966 on Verve Records. Often cited as one of rock music's first concept albums, the album is a satirical expression of frontman Frank Zappa's perception of American pop culture. It was also one of the earliest double albums in rock music (although Bob Dylan's Blonde on Blonde preceded it by a week), and the first 2-record debut. In the UK the album was originally released as a single disc.
The album was produced by Tom Wilson, who signed The Mothers, formerly a bar band called the Soul Giants. Zappa said many years later that Wilson signed the group to a record deal in the belief that they were a white blues band. The album features vocalist Ray Collins, along with bass player Roy Estrada, drummer Jimmy Carl Black and guitar player Elliot Ingber, who would later join Captain Beefheart's Magic Band under the name Winged Eel Fingerling.
The band's original repertoire consisted of rhythm and blues covers; though after Zappa joined the band he encouraged them to play his own original material, and the name was changed to The Mothers.
---
| Track | Duration |
| --- | --- |
| Hungry Freaks, Daddy | 3:27 |
| I Ain't Got No Heart | 2:30 |
| Who Are The Brain Police? | 3:22 |
| Go Cry On Somebody Else's Shoulder | 3:31 |
| Motherly Love | 2:45 |
| How Could I Be Such a Fool | 2:12 |
| Wowie Zowie | 2:45 |
| You Didn't Try To Call Me | 3:17 |
| Any Way The Wind Blows | 2:52 |
| I'm Not Satisfied | 2:37 |
| You're Probably Wondering Why I'm Here | 3:37 |
| Trouble Every Day | 6:10 |
| Help, I'm A Rock (Suite In Three Movements) | 8:37 |
| 1st Movement: Okay To Tap Dance | |
| 2nd Movement: In Memoriam, Edgar Varese | |
| 3rd Movement: It Can't Happen Here | |
| The Return Of The Son Of Monster Magnet (Unfinished Ballet In Two Tableaus) | 12:17 |
| I. Ritual Dance Of The Child Killers | |
| II. Nullis Pretii (No Commercial Potential) | |
Original Release: 1966-06-27
Arranged By: Frank Zappa
Producer: Tom Wilson (2)