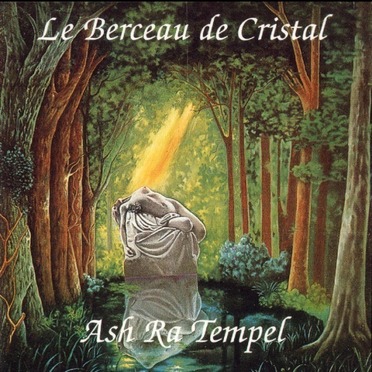 Le Berceau de Cristal
(1994)
Ash Ra Tempel










Label: Spalax Music
Genre: Rock, Electronic, Stage & Screen
Line-up:
- Manuel Göttsching / guitar, Farfisa organ, rhythm computer
- Lutz Ulbrich / guitar, synth guitar
Although not released until 1993, Le Berceau de Cristal was originally the soundtrack to Philippe Garrel's 1976 film of that name, providing an appropriately hallucinatory backdrop to Nico's musings and her oneiric encounters with various pseudo-mythological characters. Le Berceau de Cristal shows continuity with 1975's Inventions for Electric Guitar, enveloping listeners in analog ambient-minimalist soundscapes that anticipate the work of subsequent generations of electronic musicians. This time, however, Manuel Göttsching is joined by Agitation Free guitarist Lutz Ulbrich and expands his instrumental palette slightly to include Farfisa organ, synth guitar, and rhythm computer. Working within the seemingly limited parameters of minimalism, the pair infuse this material with a diverse range of dynamics, moods, and textures: "Silence Sauvage" blends drones, magma-like bubbling, and subtly shifting rhythmic figures while "Le Sourire Envolé" sustains a warm, blissful pulse that's metronomic but utterly mesmeric. The most compelling track, "Deux Enfants Sous la Lune," attains a heady, hypnotic complexity evoking Terry Riley's "A Rainbow in Curved Air." While these tracks emphasize detailed repetition, with sparse patterns of notes weaving through intricate sonic canvases, the album also has a more expansive dimension as Göttsching and Ulbrich paint in more bold, sweeping strokes: lulled by austere, atmospheric washes of sound, the 14-minute title track takes listeners on a cosmic journey; similarly epic, the fusion of throbbing drones and spectral, ringing keyboards on "L'Hiver Doux" gathers momentum and urgency. These longer numbers are very much of their time and don't hold up quite as well decades later, yet they stand alongside the best of early-'70s Pink Floyd and Tangerine Dream. Many soundtrack albums aren't as effective without their accompanying visual imagery, but that's not the case with Le Berceau de Cristal, which conjures up its own imaginary film as it bridges the gap between inner and outer space.
Soundtrack of "Le Berceau de Cristal" directed by Philippe Garrel, with Nico, Dominique Sanda, Anita Pallenberg, Margareth Clément.
Track 1 recorded in concert on 7 August 1975 at Cannes, Palais du Festival.
Tracks 2-8 recorded in 1975 at Studio Roma, Berlin.
---
| Track | Duration |
| --- | --- |
| Le Berceau de Cristal | 14:15 |
| L'hiver Doux | 12:49 |
| Silence Sauvage | 5:53 |
| Le Sourire Volé | 6:05 |
| Deux Enfants Sous la Lune | 6:37 |
| Le Songe D'or | 4:25 |
| Le Diable Dans la Maison | 2:54 |
| ...Et Les Fantômes Rêvent Aussi | 7:56 |
UPC: 3429020142755