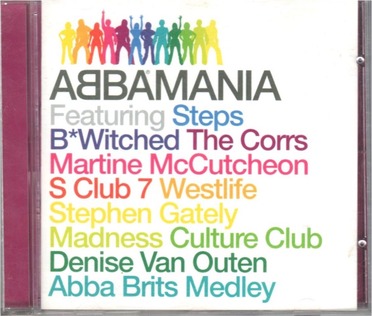 Various










Label: Polydor
Duration: 49:29
Genre: Pop
This compilation ℗ 1999 Polydor Ltd (UK). The copyright in this compilation is owned by Polydor Ltd (UK). A Universal Music company. © 1999 Polydor Ltd (UK).
Made in EU.
Although some copies credit PMDC UK in the mould hub, they were not actually pressed by PMDC. Ownership of the PMDC plant had passed to Universal M&L in April 1999.
Wikipedia lists a release date of November 1999, Allmusic lists December 1999 and lists the recording date as October 1999.
---
Track
Artist
Duration
Money Money Money
3:22
Lay All Your Love On Me
4:26
I Have A Dream
4:16
Chiquitita
5:31
Gimme! Gimme! Gimme!
3:57
Voulez Vous
4:29
Mamma Mia
3:16
Dancing Queen
3:57
I Know Him So Well
4:14
Does Your Mother Know
3:10
The Winner Takes It All
4:44
Thank Abba for the Music
4:07
Original Release: 1999-01-01
Composer: B. Andersson/B. Ulvaeus
UPC: 731454335928