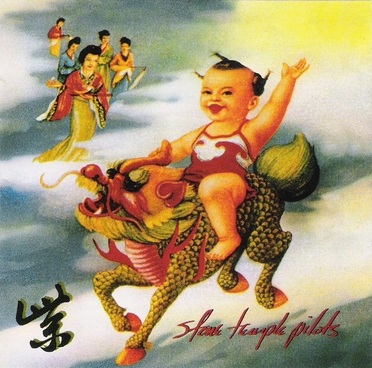 Stone Temple Pilots










Label: Atlantic / Wea
Duration: 40:04
Genre: Alternative Rock
Purple is the second studio album released by the American rock band Stone Temple Pilots released in June 1994 on Atlantic Records. The album, building off the foundations laid by the band's debut album Core, was a huge success for the band, debuting at #1 on the Billboard 200 chart and remaining there for three weeks, eventually selling over six million copies. It spawned a number of successful singles — "Vasoline", and "Interstate Love Song" both topped the Mainstream Rock Tracks charts, while "Big Empty" also cracked the top ten. Lesser known album cuts "Pretty Penny" and "Unglued" were also released as promotional radio singles.
The album's style sees an expansion of the band's sound. While the band's debut, Core, had a more grunge oriented sound with churning guitar riffs and aggressive vocals, Purple saw the band mellow their sound a bit, incorporating a number of influences, including psychedelic and Southern music.
In 2006, the album was ranked number 73 on Guitar World magazine's list of the 100 greatest guitar albums of all time.
The album's first single, "Big Empty", made its debut at STP's MTV Unplugged acoustic performance in 1993.
---
| Track | Duration |
| --- | --- |
| Meatplow | 3:44 |
| Vasoline | 5:06 |
| Lounge Fly | 4:48 |
| Interstate Love Song | 2:47 |
| Still Remains | 3:48 |
| Pretty Penny | 3:13 |
| Silvergun Superman | 3:39 |
| Big Empty | 5:34 |
| 'Unglued' | 3:23 |
| Army Ants | 4:02 |
| Kitchenware & Candybars | |
Original Release: 1994-06-07
UPC: 75678260728