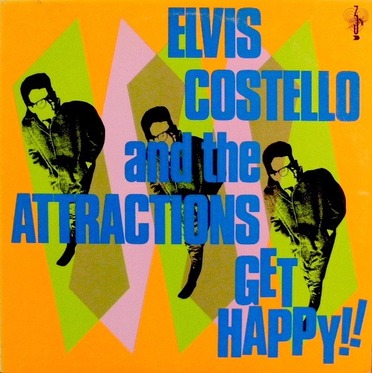 Elvis Costello & the Attractions










Label: Mobile Fidelity Sound Lab
Duration: 48:19
Genre: Rock, Blues
The fourth album by Elvis Costello, his third with the Attractions, Get Happy!! is notable for being a dramatic break in tone from Costello's previous "trilogy" of commercially successful albums, and for being heavily influenced by R and soul music. The cover art was intentionally designed to have a "retro" feel, to look like the cover of an old LP with ring wear on both front and back.
The title may be a reference to gospel music, where "getting happy" is synonymous with receiving the Holy Spirit (a meaning that Costello himself hints at in the liner notes to the 2003 edition of the album). The title may also refer to the Harold Arlen/Ted Koehler song of the same name.
It was placed at #11 on Rolling Stone magazine's list of the 100 greatest albums of the 1980s.
During the American concert tour for Armed Forces in April 1979, Costello engaged in a drunken argument with Stephen Stills and Bonnie Bramlett in a Columbus, Ohio, Holiday Inn hotel bar, during which Costello referred to James Brown as a "jive-arsed nigger," then upped the ante by pronouncing Ray Charles a "blind, ignorant nigger.
---
| Track | Duration |
| --- | --- |
| Love for Tender | 2:06 |
| Opportunity | 1:56 |
| The Imposter | 2:39 |
| Secondary Modern | 2:05 |
| King Horse | 2:31 |
| Human Touch | 2:30 |
| Possession | 2:30 |
| Man Called Uncle | 1:49 |
| Clowntime Is Over | 2:34 |
| New Amsterdam | 2:22 |
| High Fidelity | 3:36 |
| I Cant Stand Up For Falling Down | 1:57 |
| Black & White World | 3:13 |
| Five Gears In Reverse | 1:58 |
| B Movie | 1:58 |
| Motel Matches | 3:01 |
| Human Torch | 2:04 |
| Beaten to the Punch | 2:18 |
| Temptation | 3:00 |
| I Stand Accused | 2:13 |
| Riot Act | 2:29 |
Original Release: 1980-02-15
Producer: Nick Lowe
UPC: 821797233415