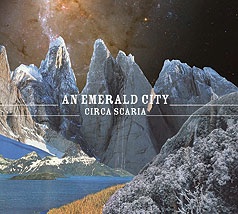 An Emerald City










Label: Banished From The Universe
Duration: 53:17
Genre: Post Rock
The Dominion Post
An Emerald City formed in Auckland in 2005 and, as of a few weeks ago, the band has relocated to Germany. This debut album is one of the most amazing records I have heard from a New Zealand band. There is nothing especially Kiwi about the sounds contained, so I feel bad suggesting this is good because it comes from New Zealand. This is music that comes from the soul - and is music that takes in Eastern flavours as world music textures mix with post-rock and hard rock/metal. The bass and drums are augmented by Turkish percussion and violins and lutes that dance melodically around wah-wah guitar phrases. There is a circle and sweep to the jams found on Circa Scaria. The songs were recorded in a cave at Whatipu, a beach on Auckland's west coast.
On two separate occasions during the album's eight songs, I hear what sounds like the influence of Faith No More's epic Woodpecker from Mars space-rock instrumental. And that is where the grunt of metal comes in to the equation. The players in An Emerald City know that real metal and decent hard rock needs melody, not just a riff.
As the songs start to stretch out towards the 10-minute mark (Reindeers Running, As the Storm Comes), it feels as if this music is an aural documentary; snapshots of the band at work, the songs not so much starting and ending, but pulsing in to life and then fading off in to a slow-burn simmer.
It is as if we, the audience, get to hear a part of an eternal middle section, an evolution as rhythmic mantras are pushed in to place with bells and drum-circle percussion, as mellifluous guitar lines put a melodic fire-dance in to place and the violin weaves with a serpent-like poise and purpose, stabbing in between the melody and rhythm.
I do not want to sound insulting saying this is one of the best New Zealand albums I have ever heard, even though there is a part of me that does want to feel proud in saying that, so I'll just say what I really want to put down in print: this is one of the best albums I have ever heard.
New Zealand Herald
New Zealand has never produced anything that sounds like this.
An Emerald City's origins date back to 2005 and now the six-piece - whose instruments stretch to violin and a Persian long-necked lute - create an exotic Eastern-influenced take on psychedelic and experimental rock.
World music doesn't get more rock'n'roll than Circa Scaria. You wouldn't know the album was recorded in a cave at Auckland's remote west coast beach of Whatipu in January. It sounds sharp and beautiful, even when it erupts into a squally haze of searing guitar on noisy highlight, Mull Pasha.
But there's a haunting otherworldly mood throughout that perhaps stems from the cavernous environment in which it was recorded.
Opener Moon winds up gently, rumbling and shimmering into a knot of intensity before a brilliantly messy and riotous end; Hamlin is the most worldy and wouldn't sound out of place at a folkfest; and on Reindeers Running you might as well be at an outdoor dance party in the woods.
Meanwhile, as an apt end, the 10-minutes-long As the Storm Comes In lives up to its name as it slowly builds before an all-in frenzied and volatile climax.
Circa Scaria is a vast step up from last year's debut EP, where EC were still figuring out what they were doing. Just imagine where they might go in the future.
Scott Kara
---
| Track | Duration |
| --- | --- |
| Moon | 5:25 |
| Mull Pasha | 6:52 |
| The Distance | 7:16 |
| Hamelin | 4:08 |
| Reindeers Running | 7:48 |
| Acid Eyes | 5:28 |
| A Strange Sense Of Reality | 6:12 |
| As The Storm Comes In | 10:08 |
Original Release: 2009-04-17
Composer: An Emerald City
Arranged By: An Emerald City
Producer: David Holmes