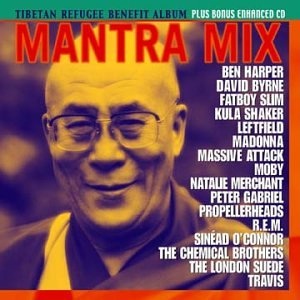 Mantra Mix: Tibetan Refugee Benefit Album
(2000)
Various Artists










Label: Narada
Duration: 1:55:12
Genre: Electronica
In support of Tibetan issues comes the solid various artists collection from Narada entitled Mantra Mix. This double-disc release includes a bonus CD that features a video of the Dalai Lama, and all proceeds will go to benefit the Tibetan refugee support organization, the Foundation for the Preservation of the Mahayana Tradition (FPMT). Certainly an all-star cast of music contributors, Mantra Mix features cuts from Travis, Madonna, R.E.M., Fatboy Slim, Ben Harper, and more. The bonus disc also includes previously unavailable cuts from electronic gurus Junkie XL and Chris Hinze, and material by composer Philip Glass.
Amazon Review
Compilation. Indian Mantras with Electronic Beat.
Label Description
A once-in-a-lifetime collection from the hottest music stars today. These incredible artists have come together to support His Holiness the Dalai Lama and the plight of Tibetan refugees. All artists' royalties will be donated to the Office of the Dalai Lama via the Foundation For The Preservation Of The Mahayana Tradition (FPMT) - an organization based on the same Buddhist tradition as the Dalai Lama. Founded by Lama Thubten Yeshe and Lama Zopa Rinpoche to help bring Tibetan Buddhism to the West, FPMT also engages in community service and has assisted Tibetan refugee communities, improving water supplies, housing, education, and providing support for elderly monks and nuns.
Enhanced CD
MANTRA MIX includes an Enhanced CD component featuring special video clips of the Dalai Lama as well as some unique interactive 'lotus' and 'mandala' portals. These can be viewed and explored at the users' leisure on their computers. Cutting edge technology has gone into the Enhanced CD to produce an ambient Tibetan environment offering another dimension to the whole album concept. Parts of the Enhanced CD will also be featured on www.mantramix.com
---
Track
Artist
Duration
Right here, right now
5:54
Everything Will Flow
4:37
One Too Many Mornings
4:11
Shanti-Ashtangi
4:29
Connection, The
3:42
This Is To Mother You
3:10
History repeating
4:02
Lotus (Weird Mix)
4:33
Ain't Got So Far to Go
4:07
Angel
6:17
Rino's Prayer
6:29
Tattva (Lucky 13 Mix)
3:56
Seven Years
4:55
Everloving
3:23
Games Without Frontiers (Massive-DB Mix)
5:16
One Road to Freedom
4:12
Tibetan Prayer
1:11
Mantra Mix
3:34
Compassion In Exile
5:26
Peaceful Mind (Remix)
4:48
Banzaguru - Heartbeat Of Tibet
2:23
Dalai Lama Loves You All
4:21
Mantra Mix (Remix)
4:56
Mantra Mix (Jungle Mix)
6:32
Samaya
6:06
Tibetan Chant
2:42
Original Release: 2000-10-24
Composer: Various Artists
Arranged By: Various Artists
Producer: John Breukel